Western Australia is all about the wine and all about the wave: a Mediterranean-esque climate, a spectacular surf and the kind of Sauvignon that you won't be able to stop sipping. WA really does inspire a sense of total escapism. It's a vacationer's paradise, but one without that wearied feeling of a place that's been overused by tourists. It retains a sense of independence; a strong and stoic identity built around the entirely natural beauty of its coasts, wilderness and wildlife.
This is Australia's largest state and the region covers the entire Western third of the country. Originally a totally forested area, this is a vast stretch of open space that is still fairly sparsely populated, bordered by a 12, 500 km coastline and bound by the sparkling Indian Ocean. WA beaches come in all shapes, sizes and levels of seclusion. So, whether you're looking for big-name bays like Broome's Cable Beach or lovely little hideaways like Albany's Little Beach, you won't have trouble finding your perfect spot. More recently, capital city Perth has started to build a little bit of a buzz. With a boutique-style bar and artisan eats culture plus a unique artistic offering, it's gained a real reputation as a creative hotspot. And even the portside city of Freemantle has begun to attract attention from visitors to the area, giving Australia's larger cities something of a run for their money.
We can't recommend Western Australia highly enough and there are some really exceptional retreats that'll have you feeling right at home. In the hopes that you'll join us for a WA getaway, we've put together a quick list of our favourites.
Cape Lodge | Margaret River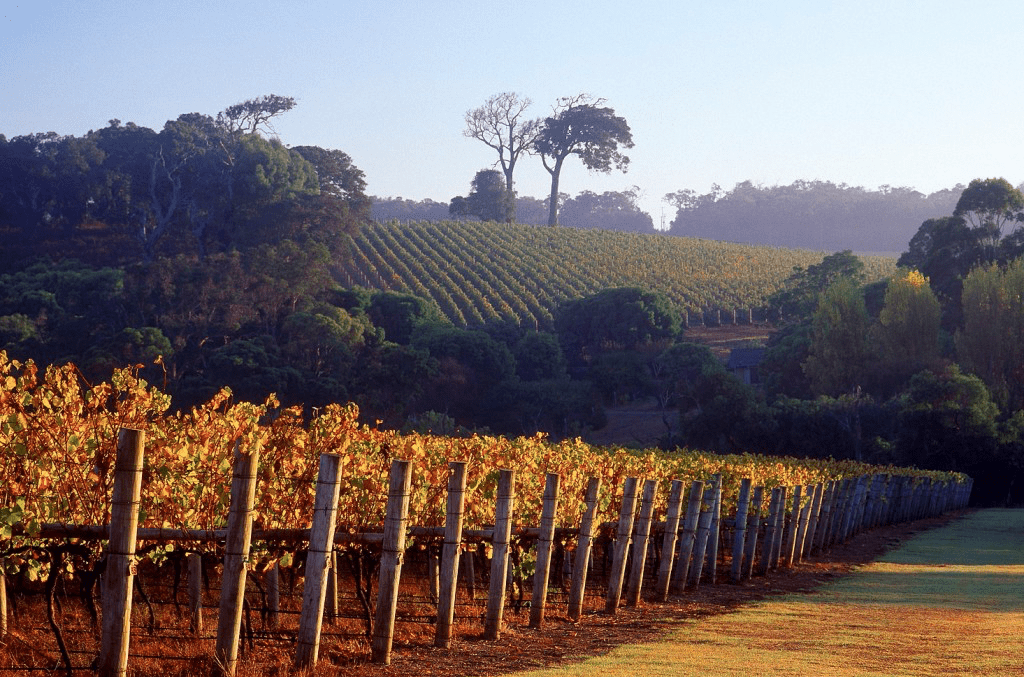 Image via Cape Lodge
Tucked in the South West corner of Western Australia, Margaret River is a magical forest setting spotted with boutique wineries and bordered by a rugged coast. Of course, the region won't have escaped your notice if you follow the gourmet food scene in any kind of capacity – its home to the now famous Margaret River Gourmet Escape in November of each year. You can find our feature on the event here.  If you're visiting for the Gourmet Escape, then the sensible thing to do would be to extend your getaway with a stay at Margaret River's Cape Lodge.
Cape Lodge sits in its own secluded vineyard, surrounded by the towering Karri forest, a tranquil lake and is a mere minutes-walk from the Indian Ocean. It's the perfect setting to enjoy long warm summer days. The 22-suite retreat has the feeling of a kind of English manor-style private country house (croquet or tennis anyone?). You'll spend your days with a book underneath one of the lush trees or at the beach. If you're keen to venture a little bit beyond Cape Lodge's forty acres, grab one of the hotel's guest bikes and cycle your way off to explore one of the other nearby vineyards or little artisan chocolate making shops. Finish your day with dinner and discreet service at the award-winning lakeside restaurant, where you'll enjoy an imaginative menu with a seasonal flair.
Sal Salis | Ningaloo Reef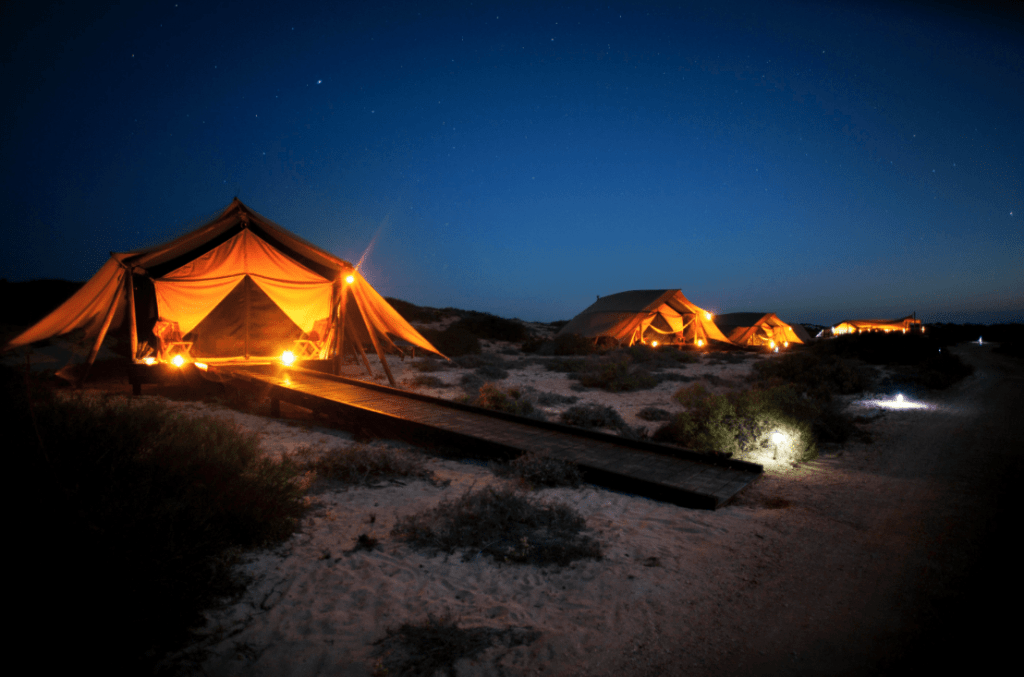 Image via Sal Salis
The best way to get to know Western Australia on close and personal terms is to go camping. And there's no better place to go camping that Sal Salis. Known as something of a pace setter in the "barefoot luxury" stakes, Sal Salis has garnered a lot of attention. This is an exclusive, remote eco-luxe safari camp made up of nine spacious wilderness tents, hidden amongst the sand dunes in the Cape Range National Park and overlooking Ningaloo Reef. But, don't worry, when we say tents, we mean the kind of tents that come with wooden floors, comfortable king size beds and an ensuite with hot water shower.  You'll be sleeping next to nature, in comfort and style. Sal Salis' sustainability credentials are something to be proud of too: the retreat subsists entirely on solar power.
With your tent metres from the water's edge, you're in a prime spot for a different adventure every day. Ningaloo Reef is a wonderland of exotic marine life. Swim, snorkel or kayak your way out into the warm waters to mingle with manta rays, fish, coral and spot whale sharks. Close your evening with a chef cooked dinner by lamp light in the central lounge tent (with its own bar, naturally) before retiring to stargaze.
El Questro Homestead | East Kimberley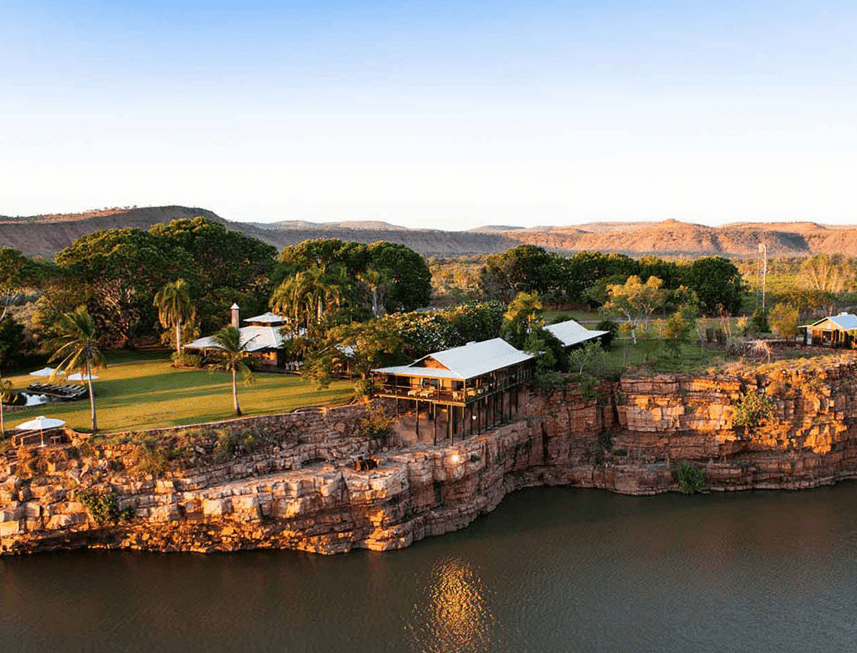 Image via El Questro Homestead
In the Kimberley region of Western Australia, you'll find the El Questro Wilderness Park. An expanse of ancient rustic Australian outback totalling around one million acres, you won't be short of places to explore. The El Questro Homestead is a remote wilderness retreat with just the right amount of good old fashioned regional hospitality. Sitting cliff side, with views out over the Chamberlain River and surrounded by dusty sandstone gorges, you're perfectly placed here to take in the full majesty of the untamed environment.
The retreat is just nine rooms, including the romantic Chamberlain Gorge suite (outdoor bath tub anyone?). And if it's honey-perfect moments you're looking for then the setting won't disappoint. Swimming underneath a waterfall? Taking a soak in the natural thermal Zebedee Springs? Both on the agenda in El Questro. Aside from that, you'll spend your days making the most of the dramatic scenery and abundant wildlife with 4WD nature tours, gorge hikes and bird watching. See in the evening with dinner in your choice of setting followed by drinks out on your veranda.
True North | Kimberley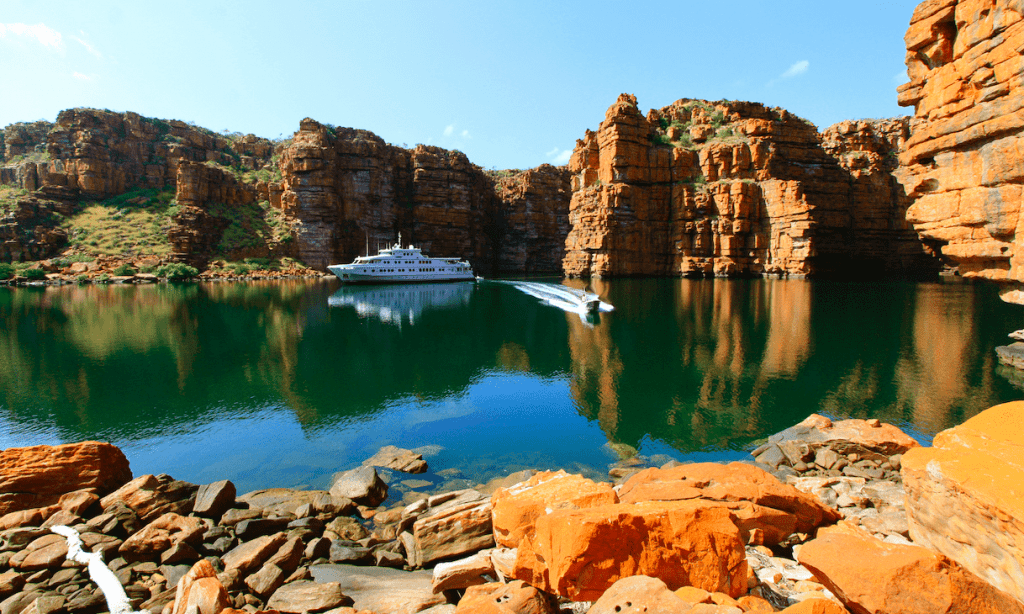 Image via True North
So, you'd probably worked out already that this one isn't actually a lodge. It's a luxury adventure cruise ship, offering inspiring journeys through the coast of Western Australia's the Kimberley. You'll be joined by just other 36 other guests, and True North is designed for the kind of intimate, up close experience with wilderness that you wouldn't be able to get with a larger ship. You can choose which part of the area you explore and, depending on your direction of travel, you'll depart from either Broome or Kununurra. All itineraries are activity based, so you'll spend your days hiking, fishing, snorkelling or heading out to explore in the onboard helicopter or expedition boats. Join us for a little taster version of the True North experience in our feature here.
Ready to find out more about what Western Australia has to offer you? Get in touch here to talk to us about your travel aspirations.