The space where "luxury" and "adventure" meet is a narrow one. Luxury: refinement, comfort, ease. Adventure: excitement, risk, discovery. So… what exactly is the middle ground between the two? Someone who knows the answer to that question is Peter Trembath, of True North Adventure Cruises. Offering stylish journeys through the coast of Western Australia's the Kimberley, True North have somehow managed to get it exactly right. In fact, over their pretty impressive 30 years of experience, they've finely tuned the art of adventure-luxury.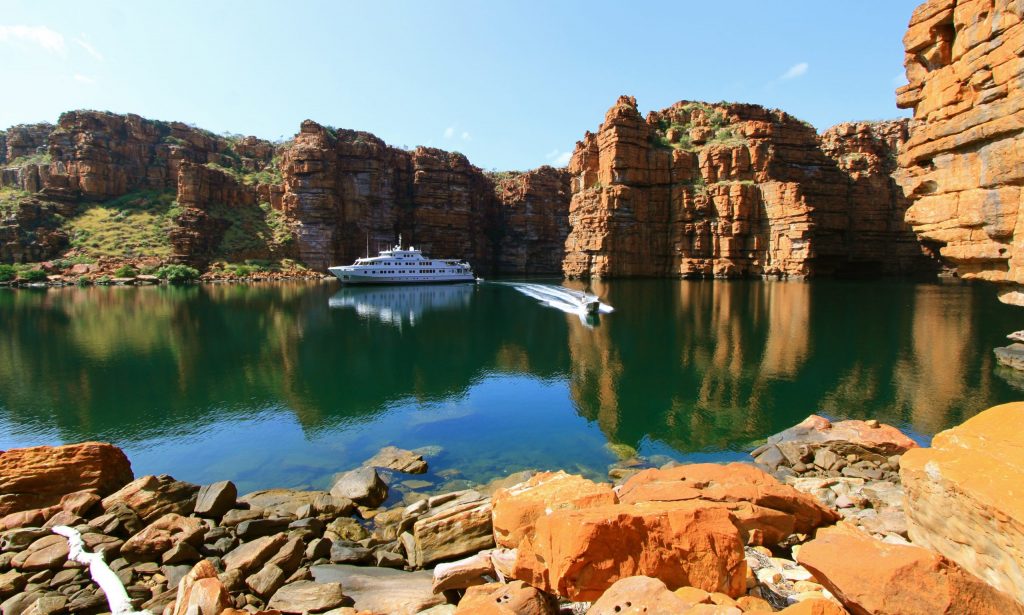 A True North Kimberley cruise will take you on a voyage of discovery through one of the most mysterious and unknowable parts of Australia's wilderness. With space for only 36 guests, this is an intimate type of experience that you're unlikely to come across again. Although Peter and his team have continued to grow their offering, they've always resisted the temptation to take more guests with them. There are two reasons for this and they are both motivated by the same vision of adventure-luxury. True North gives guests an unparalleled access to shallow coastal areas and wild rivers that larger ships just wouldn't be able to reach. The on-board helicopter and six expeditions boats act as a window to the Kimberley. The other side of this is the importance of maintaining the same level of personal service – there are 22 crew members on hand to help you out with anything that you might need.
The other important thing to highlight? These activity-led expedition cruises are a lot of fun.To give you an idea of what you can expect, we've decided to take you on a little taster version of the True North experience. You'll join us, won't you?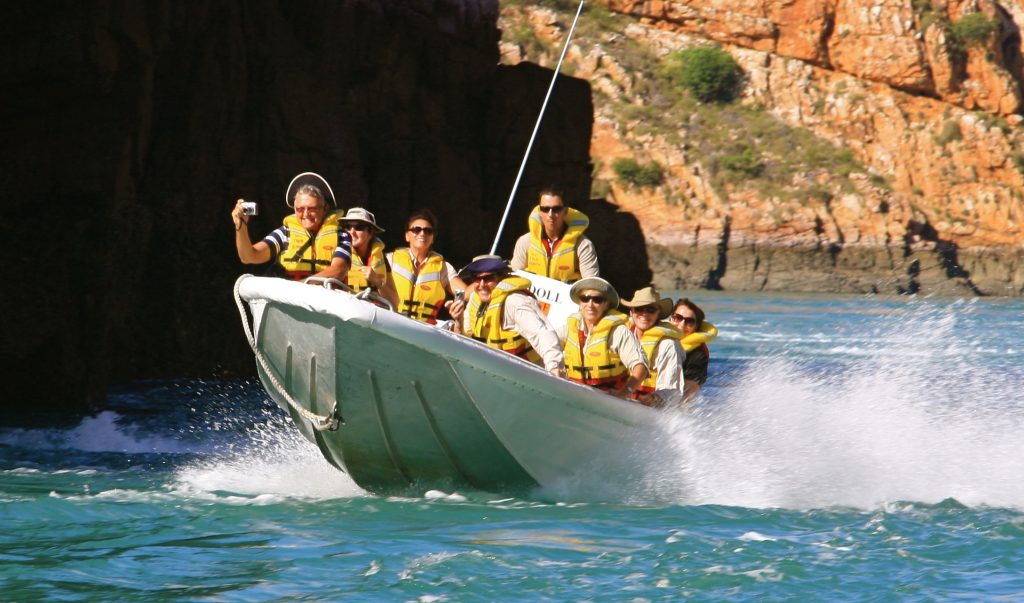 Climbing on-board the True North ship at the port, you feel wild and spirited. Sprawling wild rivers, spectacular gorges and majestic waterfalls ahead of you, you can't wait for your personal introduction to the Kimberley. That evening, as you sit back and relax on deck with your first early evening cocktail, you think about the adventure you're about to embark on through the beautiful, ancient landscape.
The next morning there is no time for lounging around and you are up early, feeling refreshed. You start with fishing at Three Ways and a short climb up to an art gallery – an amazing glimpse into ancient culture in the form of the preserved Raft Point Wandjina Paintings on show here. The afternoon sees you setting sail for Montgommery Reef, an eco-system that gives you an insight into the unique beauty of the Kimberley's endemic wildlife. You finish your day in a slightly more intimate setting, with a candle lit dinner on the alfresco deck at dusk.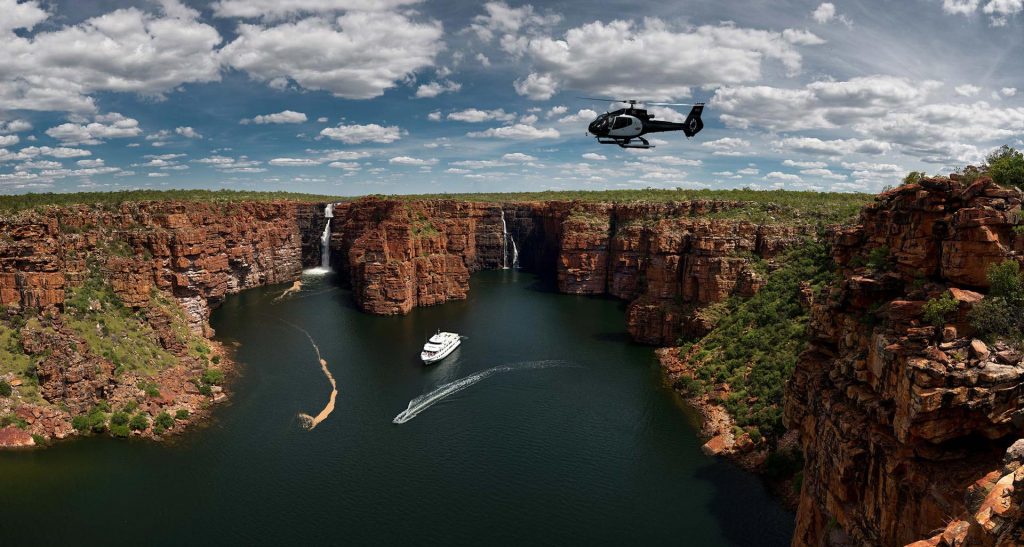 Day four of the cruise, and you know all of the names of both the other guests and the crew. You've also had an up close and personal introduction to exotic Antipodean wildlife including the infamous saltwater crocodile and the rainforest-dwelling birdlife. 
Dinners in the evening have been something of an extended affair. And even more so than usual the previous night, with a summer storm and spectacular lightning show that turned the late afternoon to night, and had you all retiring to the cosy lounge. Clear, open skies again this morning and today's plan is an expedition in one of the True North's adventure boats. Making your way out into the wild rivers and the near-unreachable coastal areas of your Kimberley, you feel truly at one with your surroundings.
Your final day with True North is a highlight. Taking your seat in the on-board helicopter, you set out over the Kimberley. Landing in one of the True North's crew's carefully chosen secret spots, the chefs and crew are already ashore, taking care of preparations for the barbeque. A traditional Aussie BBQ with some special touches, a spectacular setting being just one of them. After lunch, you enjoy a refreshing swim in the nearby billabong, before jetting back to the ship in the late afternoon. From your sky-high vantage point, the rugged wilderness beneath you is put into perspective.
See yourself exploring the Kimberley on a wilderness discovery cruise with True North? So do we. Get in touch here to begin your South Pacific adventure.