Image via Pretty Beach House
New South Wales' character is defined by its contrasts. Iconic architectural landmarks, unspoilt nature and a truly carefree spirit come together in a kind of effortless confluence. There's an almost ethereal feeling of eternal Summer here that you won't quite understand until you experience it. You'll climb the Harbour Bridge, you'll visit Sydney Opera House. You'll learn to surf at Byron Bay. You'll be tempted to stay forever by magnificent coasts that seem to stretch on forever, filling you with the uplifting feeling of the final scenes of a film.
If you're planning on visiting, then all of this is almost definitely on your list already. You can find our feature on boutique hotels perfect for your stay in Sydney here. But New South Wales has a few more tricks up its sleeve and it really is worth venturing just that little bit beyond the capital. A new adventure calls just outside of the city, in the form of warm, welcoming coastal towns, mountainous trails and lush rainforest to explore. So, where should you start? We've decided to help you out with a quick rundown of just a few of our favourite New South Wales retreats.
Capella Lodge | Lord Howe Island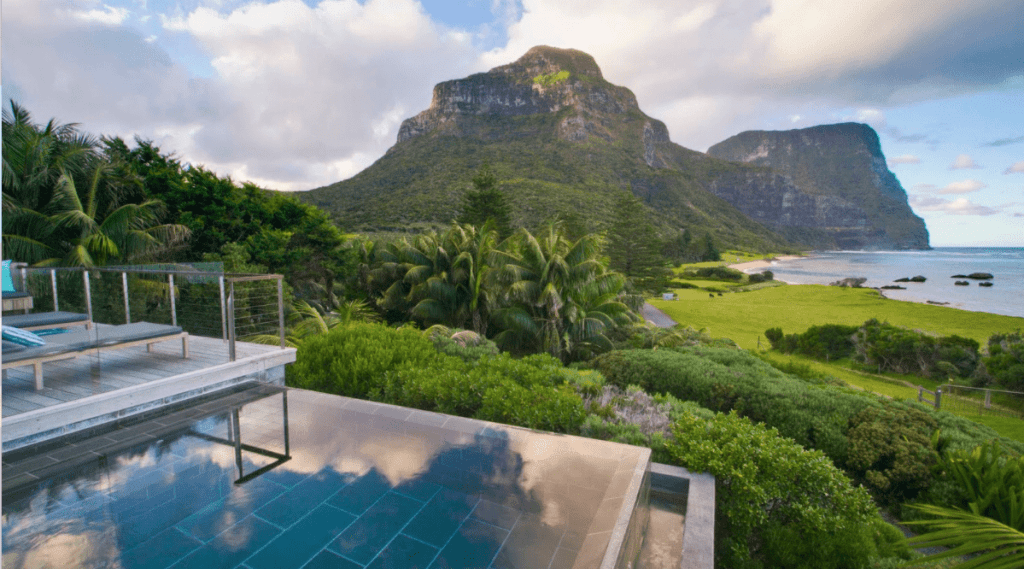 Image via Capella Lodge
Around 600km from the mainland, we like to think of Lord Howe Island as something of a secret. The island's existence is the result of a hotspot volcano eruption around 7 million years ago and it retains a unique sense of untouched Eden. At the quiet southern side, you'll find Capella Lodge. With lofty mountainous peaks and lagoon-like seas, plenty of reviews have compared the retreat's setting to a Bond villain's lair. In fact, the secluded nine-room lodge itself is a kind of luxe twist on a nostalgic summer beach house. Having been fairly recently revamped by a talented team of architects, artists and designers, Capella Lodge has never been in better shape. The interior aesthetic is fresh and underplayed; think lots of linens and bleached wood, inflected with a carefree charm.
The palm-fringed resort offers views over the breathtaking Mount Gower. Stay in the Lidgbird Pavilion for ultimate luxury: a private plunge pool, with daybeds, rainshowers and drinks delivered to you at sunset. If it's an adventure that you came here for, then you'll stretch yourself with a hike through the rainforest or a climb up Mount Gower alongside your trusty guide. Coastal highlights are North beach and Neds beach, where you can hire wetsuits from a stall and go snorkelling. Finish your day with dinner in the airy restaurant: cocktails, canapes and a menu put together from the best in local seafood. Lord Howe knows how to do laid back like no one else.
Pretty Beach House | Central Coast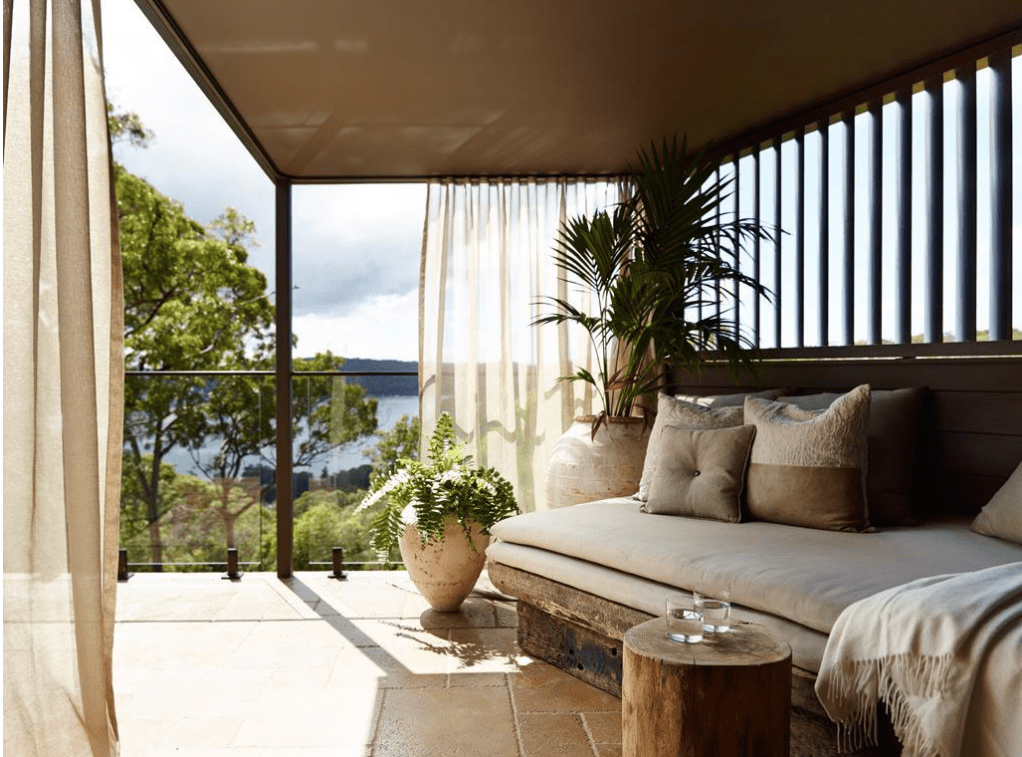 Image via Pretty Beach House
Pretty Beach House sits perched in an ancient angophora forest, with views overlooking Broken Bay. And, yes: the romantic setting that these wonderfully wistful names are conjuring up for you is totally accurate. Located at the southernmost point of the Central Coast, you can reach the private guesthouse by a twenty-minute ferry Palm Beach or (if you're feeling adventurous) a short flight from Sydney by seaplane or helicopter. This is a luxe Australian coastal experience, with idyllic golden beaches and bays at your fingertips.
The retreat is set in Bouddi National Park, so you'll find yourself nestled in a secluded spot somewhere amongst a bushland of wild eucalyptus. It's a little bit of a lovebird's paradise, often appearing at the top of "most romantic Australian getaway" lists. The sophisticated interior style comes courtesy of designer Michelle Leslie, who collaborated with local artisans to create a warm, inviting space. The hotel is made up of just four separate pavilions, all of them with views out over the Bouddi Peninsula. Another undisputed highlight is the food. The restaurant's menu is seasonal and Italian-inspired, prepared with fresh ingredients from their herb gardens. In fact, it's so good that you won't be able to resist booking your own private cooking class with the in-house chef.
Emirates One & Only Wolgan Valley | Blue Mountains

Image via Emirates One & Only Wolgan Valley
The hazy, slate-hued Blue Mountains are a pretty breathtaking sight to behold, beginning just inland from Sydney and rising to an impressive 1100km plateau. A short scenic aerial journey from the city and you'll find Wolgan Valley Resort & Spa, between Wallemi National park and the Gardens of Stone National Park. The iconic retreat is all about ultra-luxury in an outback setting, and you won't have missed the huge number of accolades and awards it's won since opening. The team is also passionately dedicated to conservation – the retreat takes up just one percent of the 7,000-acre nature reserve that it's surrounded by.
The resort is made up of forty free standing villas, each with its own swimming pool, fireplace and veranda with views out over the valley. This is an authentically Australian bush experience, and you're spoilt for choice when it comes to wildlife, safaris, nature walks, heritage tours… you name it, Wolgan Valley's field guides are experts in it. And back at the resort is the main homestead, where you'll find the restaurant and spa: specialist treatments and locally sourced menus to delight your senses.
Lusting after an inspiring getaway in New South Wales? Get in touch here, we're ready to help you design your perfect trip.