Welcome to Victoria: the coast hugging region with a covetable countryside lifestyle that you can't help but be enchanted by. Melbourne was, of course, somewhere on your travel agenda anyway. The second biggest city is a sophisticated showcase of Australian arts, culture and culinary excellence at their absolute peak. You won't have missed Melbourne's Attica popping up the past two years running in the 50 Best Restaurants in the World list and you certainly won't have missed the ever-present hype that surrounds Victoria's capital.
Melbourne continues to pull ambitious travellers from across the globe down under. But it isn't the only thing that this area's got going for it. Taking a short journey from the action by way of an easy, but scenic coastal drive, you'll find that regional Victoria has something a little different to offer. Its distinctive energy comes from a natural, rural beauty and rich, interesting communities. It's also host to one of the world's best coastal drives, Great Ocean Road, and home to the largest concentration of naturally occurring mineral springs in Australia. It's about wonderful walks, calm beaches, serene lakes and forests and world renowned wine districts. Pull on your walking boots and wander into a cellar door as soon as you can possibly can.
Victoria's charming coastal towns and picturesque mountain trails are truly wanderlust-inspiring, in a way that's all about its identity as the Australian "countryside". So, for this feature, we wanted to put the spotlight on one particularly pioneering luxury lodge that celebrates the authenticity and subtle, understated sense of adventure that defines regional Victoria.
Lake House | Daylesford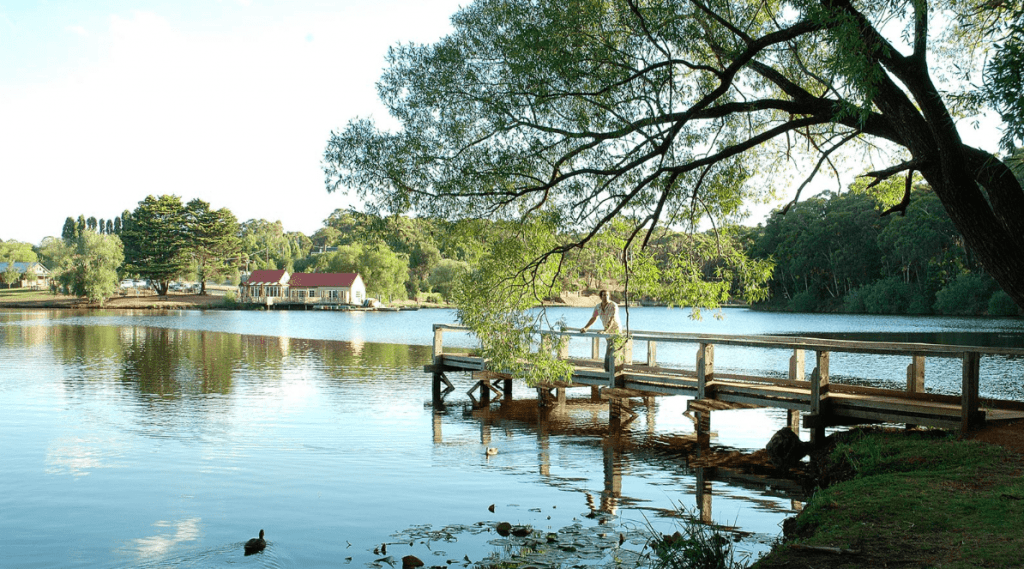 Image via Lake House 
A couple of hours drive northwest of Melbourne is Daylesford's Lake House. Perched at the side of the lake and surrounded by six acres of gardens and orchards, the setting is private and welcoming all at the same time. This is a familiar feeling, French-style country house and it offers the kind of escapism that will have you feeling right at home. The retreat is a set of just thirty intimate suites and studios, all of them in wistful whites with high ceilings, four poster beds and plush upholstery. A favourite with guests to the Lake House is without a doubt The Retreat: a two bedroom villa complete with outdoor sunken tub, fire pit and private bar. And if you're looking to celebrate on arrival, the team will arrange for little gift wrapped handmade local chocolates and your choice of bubbles to be delivered to your room. The super luxe suite provides the perfect opportunity for pre-dinner alfresco aperitif out on your veranda with views out over the lake.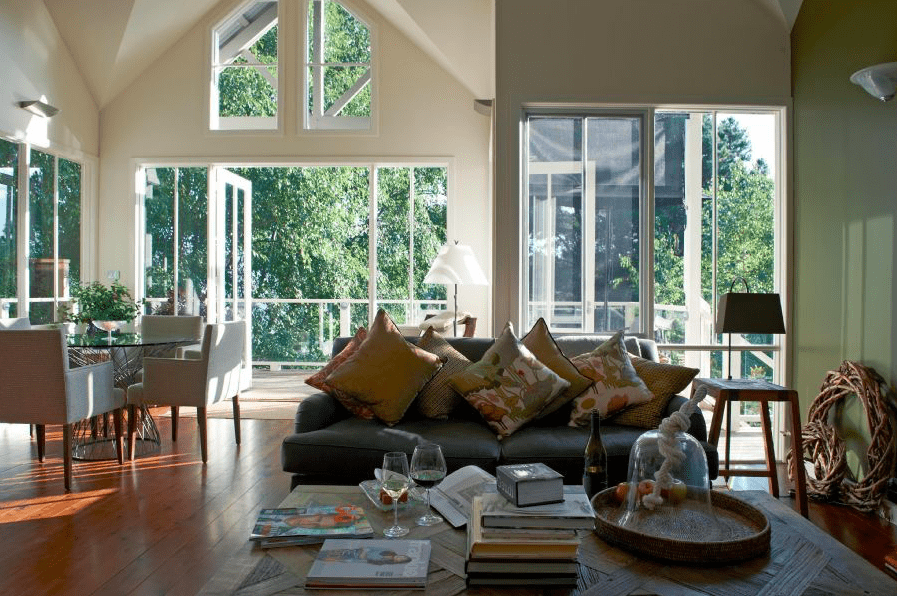 Image via Lake House
Accolades to the hotel's name include appearances in Tatler's 101 Best Hotels and The Conde Nast Gold List, but Lake House is also widely regarded as one of the best restaurants in Australia. In the hands of co-owner Alla Wolf-Tasker, the culinary expert's success comes not only from an ongoing commitment to mastering her craft, but from her dedication to dreaming big. Starting life over thirty years ago as simply a restaurant, Alla built Lake House around a few core values. Something of a "regional pioneer", she transformed rural Victoria's food scene and turned Lake House into an iconic luxury lodge. Her menus are cutting edge and effortless adventurous, and she treats her craft as a work in progress – the increasingly eclectic Lake House offerings continue to celebrate powerful local produce and now embrace new Asian and Middle Eastern flavours. You're served with a kind of relaxed, old school hospitality that's totally fundamental to the experience. You also wouldn't be blamed for swapping just one your dinners for a slightly more intimate private supper in the lodge's wine cellar.
Alla is so good at what she does that you'll want to take a little of her expertise home with you. And you're in luck – guests are invited to join classes or demonstrations in the Cooking School. Although your endlessly comfortable suite will have you tempted to stay lounging around all day, you wouldn't say no to a lakeside wander, would you? Or otherwise, relax in style with a game of tennis or an indulgent treatment at the in house Salus Day Spa. Other lodge activities take a seasonal focus, so in the chillier months you'll find yourself truffle hunting and enjoying mulled wine. If you're visiting over summer, you'll explore private lake paths with a picnic in hand – perfectly prepared hamper and blanket arranged for you, naturally.
See yourself exploring coast and countryside in Victoria? So do we. Get in touch here for help designing your Australian escape?