Image from Conrad Bora Bora Nui
Luxury travel fanatics that we are, we're always on the look out for new South Pacific resorts to lust after. We're never far from the latest news when it comes to luxury openings and we love sharing our findings with you. There was one April arrival that got us really, really excited (and, actually, kind of itching to make a trip of our own…). Hilton Hotel's Conrad Bora Bora Nui is French Polynesia's newest five-star offering and, in fact, the region's first in over a decade. We're not alone here in our slightly giddy excitement. There's been a buzz surrounding the reopening of the resort for a while now, beginning with Forbes's first look feature in July 2016. What is it about this that's got everyone so animated? Well, where do we start…
Nestled in a private cove on Motu To'opua, off the coast of Bora Bora, the secluded beachfront retreat is set against the breathtaking backdrop of Mount Otemanu. It's just a short 20-minute boat ride from Bora Bora, but you'll feel like you've discovered another world. There's really not much that says "paradise" in the same way that this setting does: 28 garden villas sprawl over Bora Bora's longest stretch of white sand beach and 86 overwater bungalows spill out into the glittering ocean.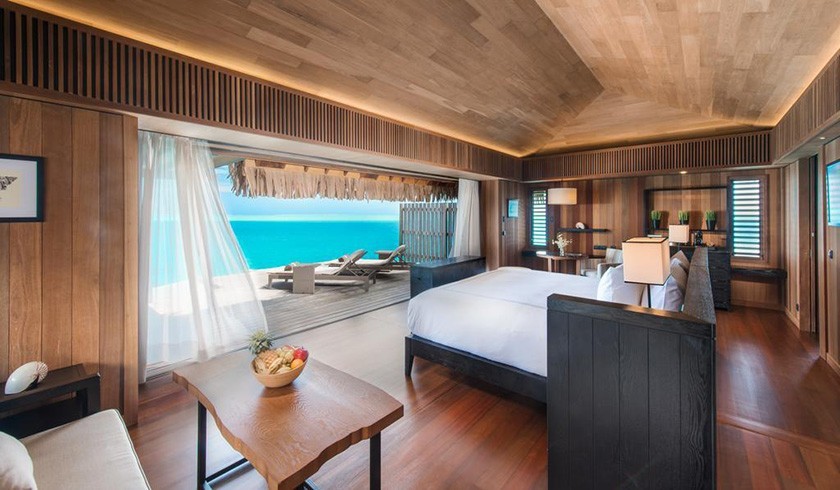 Image from Conrad Bora Bora Nui
The hotel underwent a total refurbishment before it's reopening on 3rd April. The revamped interiors are an airy, inspiring combination of contemporary style and Bora Bora's own rich cultural heritage and history. Brought to life by the Bangkok-based firm P49 Design and BLINK Design Group (interesting for any design devotees out there). When it comes to culinary offering, you're not short on options. The resort combines a pool bar and a beach grill, with the more formal Iriatai French  Restaurant and Banyan Chinese Restaurant. Relaxing with a drink before dinner? Do it from the stylish Upa Upa Lounge – the perfect view for your perfect evening.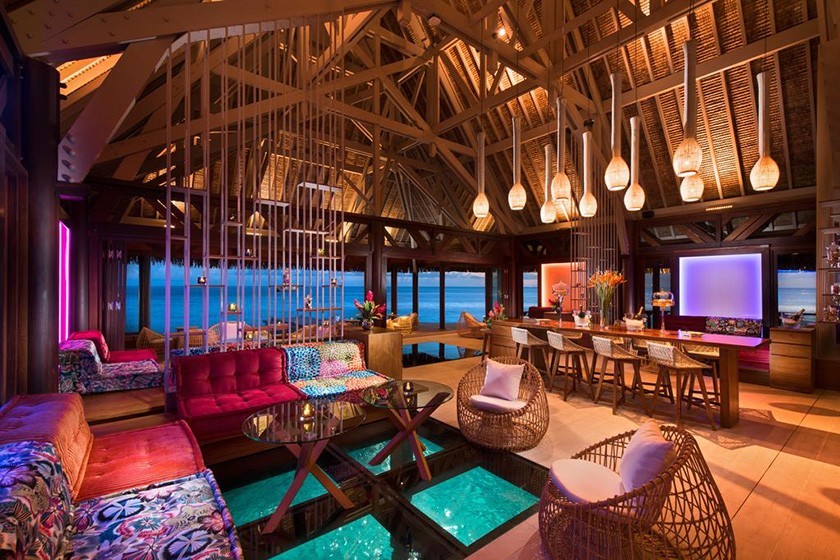 Image from Conrad Bora Bora Nui

If it was us, we'd take the opportunity to do absolutely nothing… but if you're the kind of person who likes to get out and about a little while you're on vacation, the resort also has a lively program of water sports and hiking trails to keep you entertained. Or, if you're looking to immerse yourself in local culture, you might prefer a ukelele lesson. And if you're all tired out after a long day, you can opt for a spa treatment in one of the therapy rooms overlooking the ocean. Who would say no to this kind of luxury lagoon living?
See yourself on a stylish escape in Bora Bora? Well, so do we. We can't wait to help you design you perfect getaway. Get in touch here.