Image from Likuliku Lagoon Resort
Planning a vacation as a couple doesn't come without its obstacles. The dreaming, that's the fun part. Imagining the two of you, looking tanned and gorgeous, sunning yourselves as you stroll barefoot along the beach, staring adoringly into each other's eyes… Agreeing on where to go and the organisational logistics of the whole thing? Not so much fun. Actually, we wouldn't blame you if you chose to steer clear of vacation chat with your other half for this very reason.
But you love them, right? There's nothing like escaping the everyday together and there's nowhere that says romantic getaway quite like Fiji. This little cluster of idyllic islands, with its pristine beaches spilling out into shimmering seas, is pretty much the poster image for paradise. We recommend switching yourself off from technology for a little while during your stay here. Tucked away in a remote corner of the world, you'll get to spend time together that you just don't have at home. And there's potential to spend at least part of that time in an overwater bungalow. Everything is better in an overwater bungalow.
Honeymoon, special anniversary, your very first trip as a couple or even the chosen destination for your small, intimate wedding, Fiji should be somewhere pretty near the top of your list of contenders. To take the stress out of the planning stages, we've put together a guide to some of our favourite Fijian resorts for romance. So, now you can breeze right on through to the barefoot beach strolling part…
Likuliku Lagoon Resort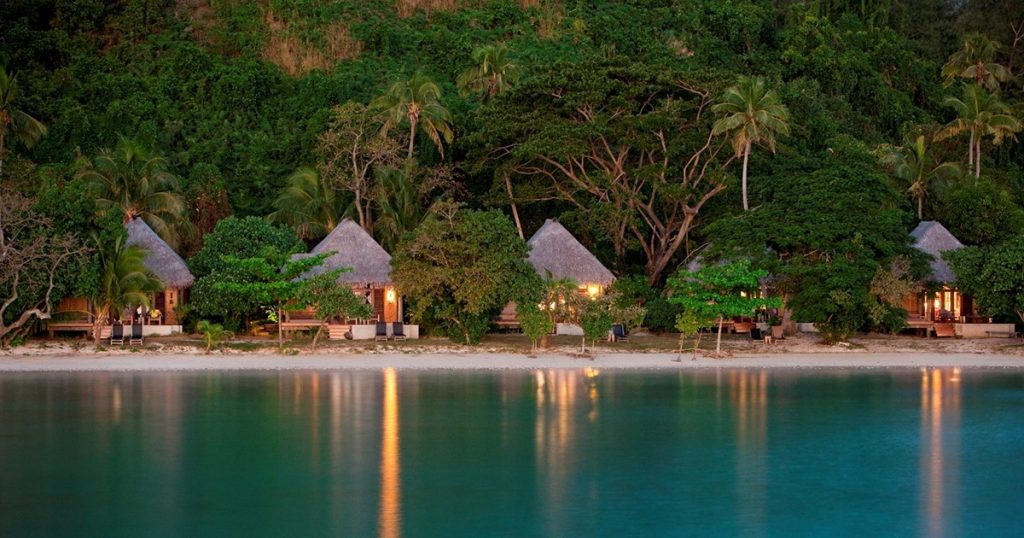 Image from Likuliki Lagoon Resort
You'll find this boutique, adults- only resort hidden amongst the Mamanuca group of islands in the West of Fiji; a haven of refined luxury surrounded by a beautiful, tranquil lagoon. "Hidden gem" is probably the wrong phrase here – in fact, the resort is internationally acclaimed, thanks in no small part to being the first to introduce the overwater bungalow concept to this part of the world.
This innovative architectural style is a big pull for visitors, but it's also an authentic celebration of traditional Fijian village culture and heritage. You can sense that the heart of the resort's design – from both the architecture, to the interior styling – is a reverence and respect for the natural world. Whether you choose an overwater, beachfront or garden bure, it's really this closeness to nature that sets the scene for an inspiring, intimate stay with your loved one. No shops, no banks, no stress: this is a space away from the day to day.
Sheraton Resort & Spa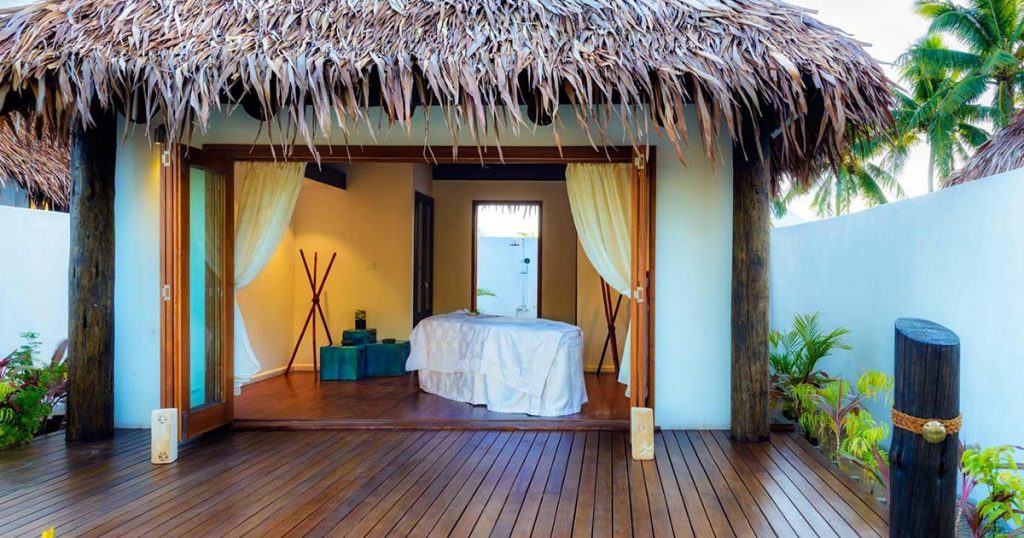 Image from Sheraton Resort & Spa
The revitalised Tokoriki Island resort reopened to guests on 14th February of this year. Yes, that's right, Valentines Day… making its romantic inclinations clear from the get go. Newly transformed, it now boasts a collection of even-better-than-they-were-before luxury features. Waking up to uninterrupted ocean views, you'll enjoy breakfast on your private deck. Your plans for the afternoon? The on-resort spa will steal at least a couple of hours, and the eclectic bar and restaurant offering will keep you and your other half busy during the evenings. And if you do decide on Fiji as the getaway destination for your further-afield big day, the resort also offers a specialist wedding service. The retreat's breathtaking beachfront makes for the perfect backdrop to the most special day of your life.
Taveuni Island Resort & Spa
Known locally as "the Garden islands", this group of islands is a beautiful, serene tangle of luscious greenery and vegetation. And the family-run Taveuni Resort & Spa is something of an homage to its setting: a haven of conservation, with its own organic vegetable garden.  A modern, boutique resort with open plan rooms, offering unmissable views of the South Pacific. Your remember-forever moment while you vacation here? You and your loved one underneath the Laveunu waterfall. Just the two of you and nature in an untouched, peaceful environment.
Wakaya Club & Spa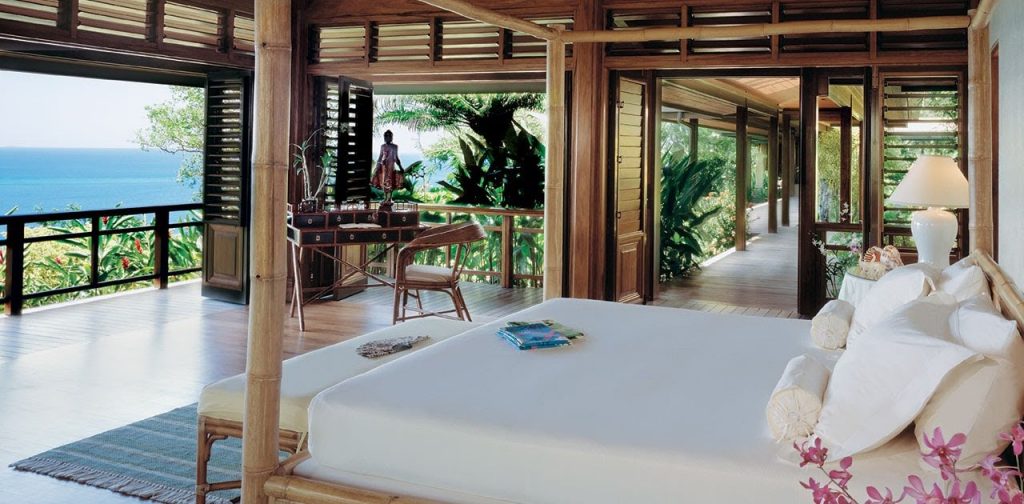 Image from Wakaya Club & Spa
The Wakaya Club & Spa is an exclusive, private island resort. A selection of different accommodation styles to suit fans of the finer things in life means that this retreat has something to offer everyone. If you're looking for authenticity, then you'll choose a traditional Fijian bure overlooking stunning views of the waterfront. And these secluded villas are anything but small in size, the largest being the 12,000-square-foot Vale'O royal suite. Its shore side location also makes this resort a hotspot for couples looking to discover Fiji's lagoon-like seas together. First-time adventurers, as well as the more experienced oceanic explorer, will jump at the chance to go scuba diving or snorkeling.
For more tailored recommendations on the lavish beachfront resorts that make for an unforgettable special vacation, get in touch here.