Image via Arkaba, Richard Field
South Australia comes with a sense of relaxed sophistication. The naturally stylish, worldly older brother or sister to Australia's slightly more excitable, eccentric regions. Perhaps it's the feeling of calm brought about by its mesmerising landscapes, perhaps it's the fact that it produces some of the best wine in the world. South Australia knows it's cool and it doesn't need to shout about it. Mostly because everyone else is. South Australia was voted one of the Top 10 regions in the world to visit in 2017 by Lonely Planet's Best in Travel and Australia's best festival state two years in a row. You can check out our guide to the Adelaide Beer & BBQ festival here.
The climate in the driest of all of Australia's states means that it benefits from unrivalled grape-growing conditions. And it has some of the most renowned wine regions in the world. If you do happen to find yourself in Barossa Valley, the Adelaide Hills or McLaren Vale, you'll stumble across (and perhaps out of…) a healthy dose of cellar doors. You can find our feature on wine tasting and making in the area here. Of course, we couldn't forget the region's other natural wonders. South Australia's wilderness is home to some of the most exciting and unusual wildlife you'll ever come across.
It's got wine, it's got wildlife, and it's got so much more. You'll spend a good portion of your time outdoors, taking in your surroundings and breathing in the fresh air, but you'll also need somewhere special to stay. Here's our pick of the best South Australian retreats.
Arkaba | Flinders Ranges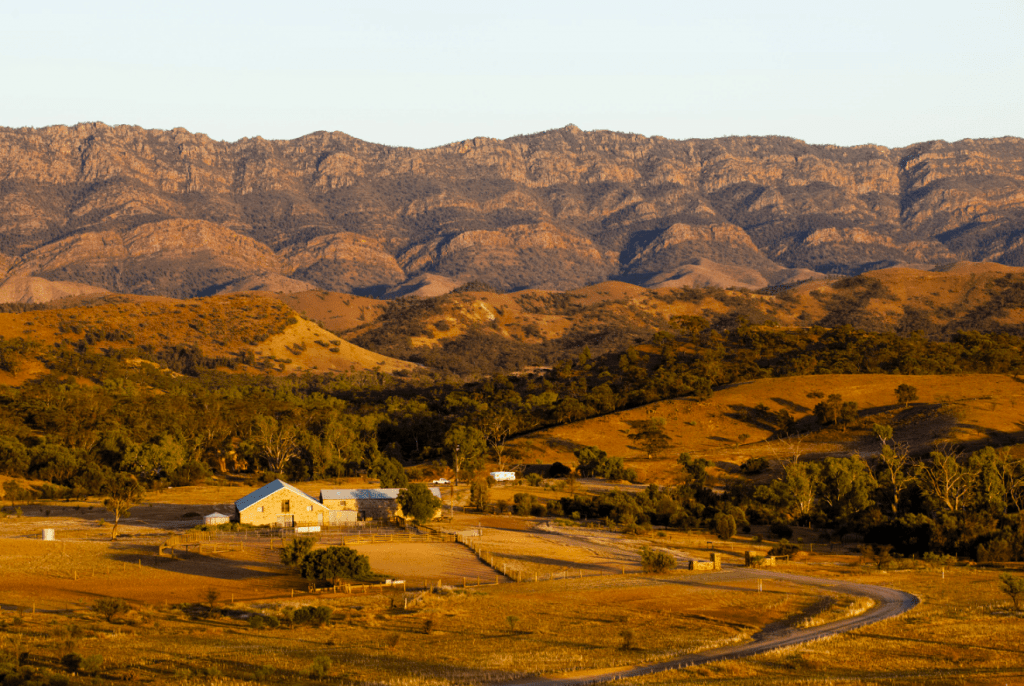 Image via Arkaba, Randy Larcombe 
Flinders Ranges is a setting from the beginning of time. In fact, back in 1999, the world's oldest verbatile fossil (getting on a bit, at 560 million years old) was discovered here. Exposed red dirt earth stretches and distorts into sprawling gorges and ranges. The pure…well, "ancient-ness" of this space would be almost unsettling if it wasn't so spectacularly beautiful. Flinders National Park is a 6000-acre conservation park, and at the Southern tip, you'll find Arkaba homestead. Accessible by charter flight from Adelaide, it's a nature-lovers dream and the retreat is bush luxury done exactly as it should be. Your stay will be shared with just ten guests. Immersing yourself in this wild natural world, you'll feel like you're getting an exclusive sneak peek into nature at its truest.
Reviewers have called it "rustic chic", but that description feels like it downplays the significance of the Arkaba team's vision. They're hugely committed to conservation and everything you do while you're here will remain respectful of that. You can also take the chance to get involved in the conservation efforts. Activities include bush walking, photography, safari drive and picnics underneath the River Red gums. An escape that gets it right on the mark for the most dedicated of outdoors enthusiasts.
The Louise | Barossa Valley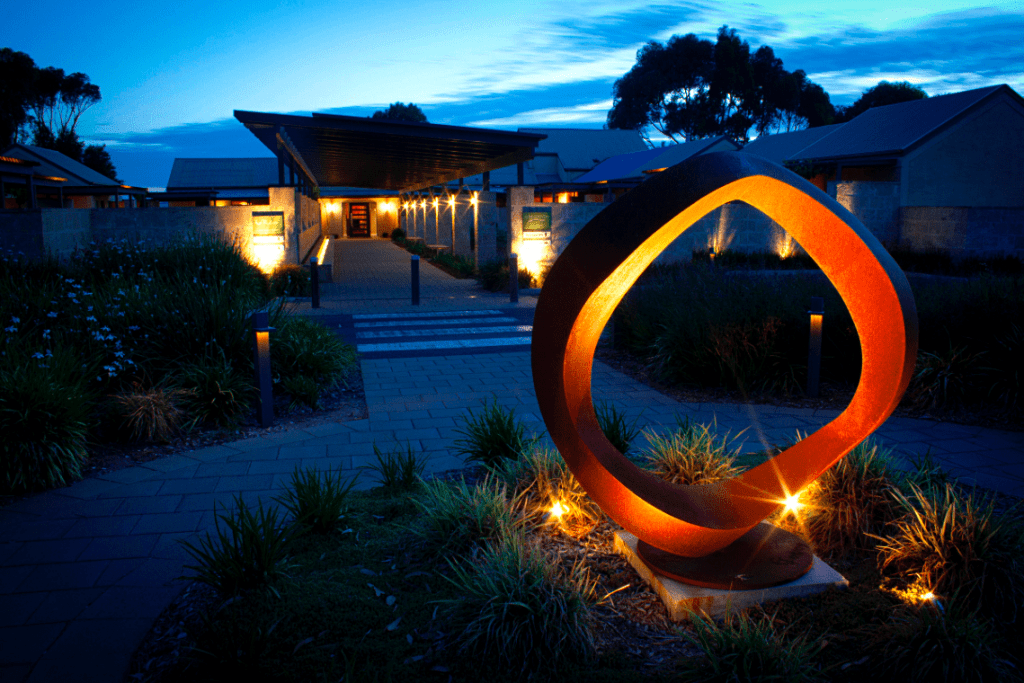 Image via The Louise
Barossa Valley doesn't really need any kind of introduction. But we'll give it one anyway, just because this part of South Australia deserves a little bit of celebration. A renowned wine region, this (small, but mighty!) stretch of 25 kilometres manages to produce around 20 per cent of all of Australia's wine. You'll find that the air here is filled with this kind of indescribable sense of optimism. Or, to put it in more straightforward terms: it's dry, it's green and it's full of fresh ideas blended with tradition centred around great wine. This is a really, really lovely part of the world.
Just over an hour's drive from Adelaide airport, The Louise is a dreamy hillside-set retreat overlooking the Barossa Valley vineyards. The contemporary lodge has a secluded feel to it, only fifteen suites with private terraces looking out onto sprawling open skies. The Louise's restaurant is Appellation, and it's pretty widely considered to be one of Australia's best regional restaurants. Together, they're keen collectors of various awards, accolades and appearances in "Top 50" lists. The menu is guided by the seasons, and you'll taste the time of year in your meal. Stuff to do locally? Head to the Barossa Valley Farmer's Market on a Saturday or take a hike in the Kaiserstuhl Conservation Park. Fun fact for visitors to the Valley: in a throwback to their heritage, the local towns still have a distinctly German influence. You'll find great Germanic snacks coffee, fresh flowers and other local produce at the local market. Or, if you're looking for something a little more out of the ordinary, you might try a cooking class or a hot air balloon ride over the valleys.
Southern Ocean Lodge | Kangaroo Island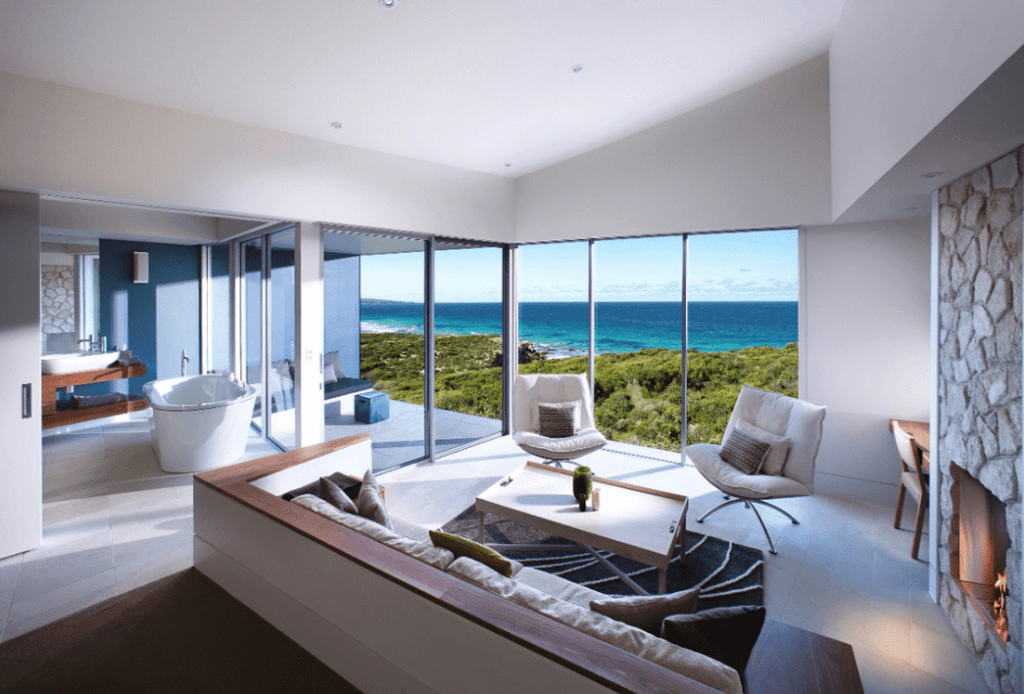 Image via Southern Ocean Lodge
Kangaroo Island is often described as a kind of "Australia in miniature". Thirty minutes by plane from Adelaide, the country's third largest island is a stretch of rugged wilderness that seems to offer an intimate, scaled-down view of all of the best parts of Australia. By which, of course, we mean our wonderful wildlife. A "zoo without fences", one whole third of the island is actually a protected national or conservation park. Southern Ocean Lodge is a sensitive and sophisticated eco-haven that is truly respectful of its remarkable surroundings.
The remote, romantic cliff side retreat gives you nature on your doorstep. It's fair to say that all of the glass-fronted suites are all something pretty special, but if you want to go really all out then you'll go for the Osprey Pavilion. Contemporary and luxe, with calming interiors, you'll get panoramic views out onto the ocean. The lodge offers immersive, personalized tours of the island and you'll be led out into the wild by your guide. Spy sleepy koalas on Koala Walk, or kangaroos at Flinders Chase National Park…go whale-watching, see baby seals and plump little penguins, spot some of the island's 200 plus species of birdlife… We could go on and on.
See yourself de-stressing in South Australia? So do we. Get in touch here to begin planning your bespoke journey.