Image via Lizard Island
How best for us to give you a quick overview of Queensland? Well, we're not going to be able to do it in one sentence, that's for sure. Australia's North-East coastal corner, the affectionately named "Sunshine State" is, in fact, a setting of contrasts. From the capital Brisbane to the rustic mountainous and newly emerging wine regions. The serene seaside towns to the glitzy glamour of the Gold Coast and the underwater glory of the Great Barrier Reef. It has many distinct identities, all of them offset by a backdrop of natural beauty and a consistently gorgeous climate.
It's safe to say that if you've chosen this as your Australian vacation, then you'll be spoilt for choice by Queensland's diverse landscapes and cultures. There's also a luxury lodge offering to have even the most discerning traveller swooning. So, how best to choose your destination? Well, that's where we come in. We've put together a guide to some of our favourite Sunshine state resorts.
Spicers Peak Lodge | Scenic Rim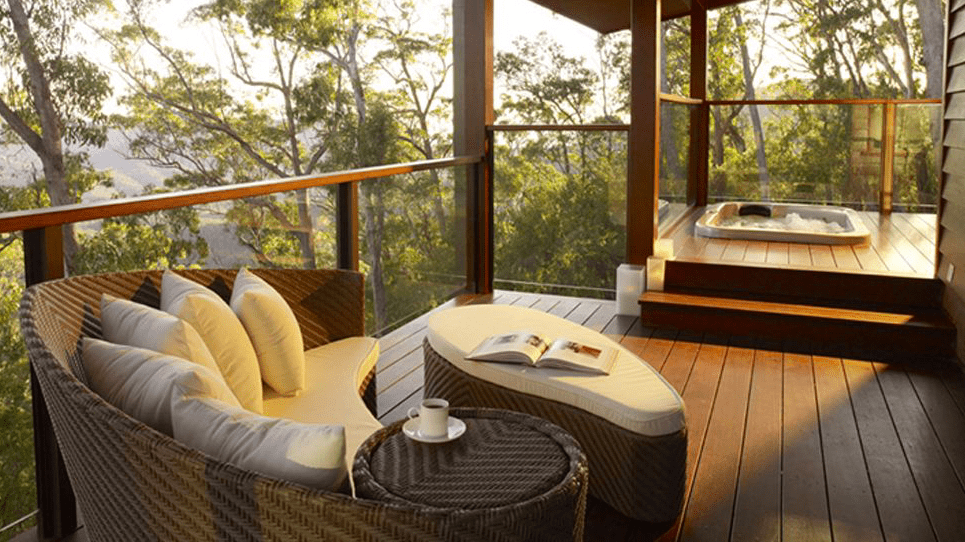 Image via Spicers Peak Lodge
South-East Queensland is all rugged wilderness and lofty peaks. The once active volcanoes having now subsided, what's left is a setting that is supremely serene and peaceful; perfect for your sky-high escape. A 90-minute drive from capital Brisbane or a two-hour drive from the Gold Coast, Spicers Peak Lodge is actually Australia's highest mountain lodge, at 110 metres above sea. Breathtaking views of Main Range National Park, the Great Dividing Range and the Scenic Rim are what makes it particularly unmissable.
This is a luxe, mountain-set chalet for fans of stress relief with a small side of adventure. Spend your days nature walking, mountain biking, 4WD exploring and helicopter touring and your evenings sunset picnicking and stargazing. The chalet benefits from the consistent climate in the newly emerging Granite Belt wine region. And the award-winning tasting menu served up by the restaurant is focussed around fresh produce with a respect for the environment. Finish your evening cosied up in the library, or with a glass of champagne in your private Jacuzzi.
Lizard Island | Great Barrier Reef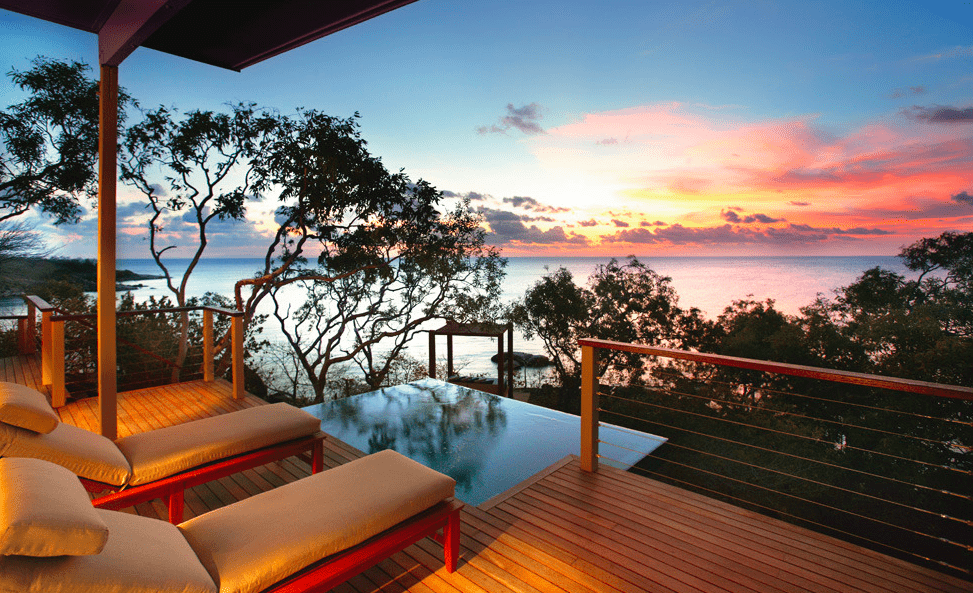 Image via Lizard Island
The world's largest coral reef whose kaleidoscopic colours can be seen from space, the Great Barrier Reef has taken on an identity almost distinct from Australia's own. At the most Northernmost tip of the reef, you'll find Lizard Island. Accessible only by an hour-long plane ride over the reef from Cairns, the remote resort offers seclusion like nowhere you've come across before. With only forty suites and villas (lots of them with their own panoramic ocean views) and twenty-four surrounding pristine white beaches, this is pure desert island escapism. Try a treatment at the Essential Day spa followed by a beachside dinner for two at sunset for ultimate zen.
Qualia | Great Barrier Reef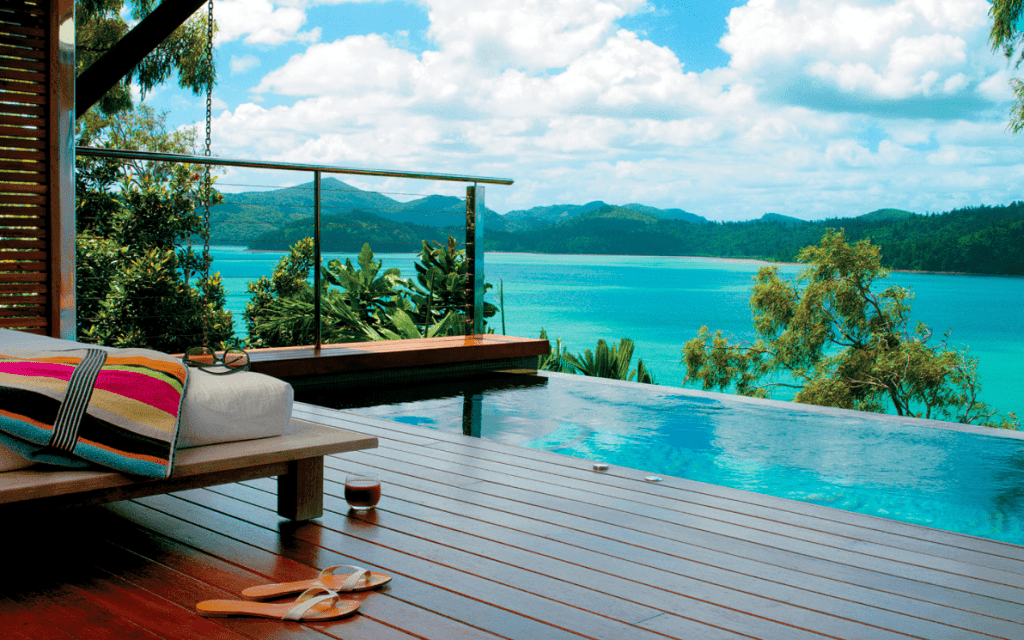 Image via qualia
Another escape along the Great Barrier Reef (which stretches 2,300 km up the length of Queensland might we add…), you'll find Qualia on Hamilton Island. Equally sun-drenched, and with a name that means "a collection of sensory experiences", you'll find that Qualia has a feeling of unrivalled luxury. To paint something of a picture: sparkling waters, white sands, and your own individually-designed self-contained pavilion with private sundeck and plunge pool overlooking the sea. Choose The Beach House as your suite if panoramic views of the Coral Sea and Whitsunday Islands are your kind of thing.
If you're looking for a little adventure while you're here, it seems silly not to take advantage of the setting. Meet the thousands of marine species and learn to dive on a guided snorkelling safari, take an open-water course dive on an instructor-led scuba-diving adventure. There a spa, there's a spectacular restaurant and you'll be given priority tee off at resort's own 18-hole golf course. Sounds heavenly, right?
Crystalbrook Lodge | Northern Outback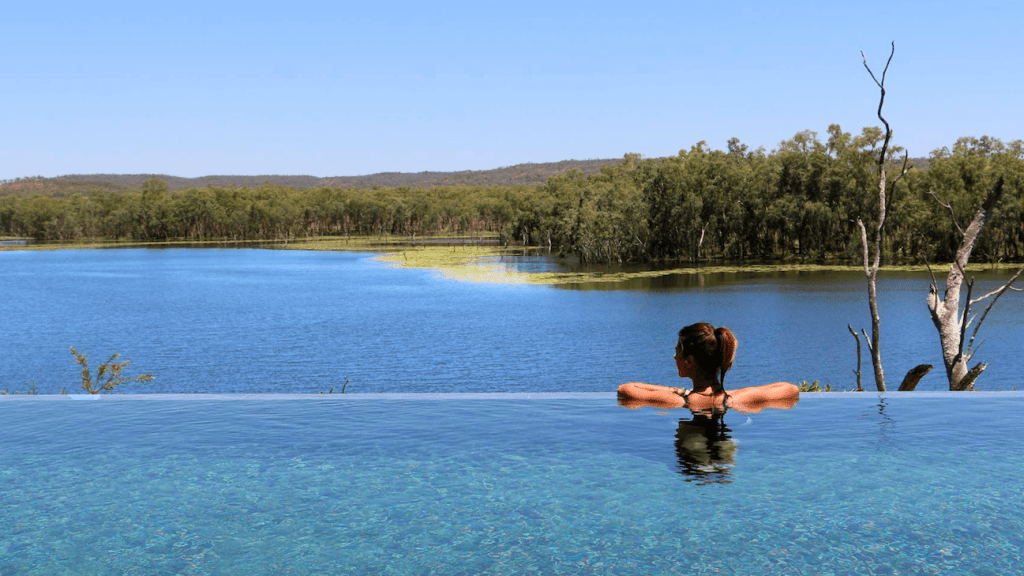 Image via Crystalbrook Lodge
 The Crystal Brooke Lodge describe themselves as an "unrivalled luxury outback oasis". And it's true that if you're looking for unexpected elegance in a remote, authentically Australian setting then this is the right choice for you. The lodge is a haven of refined calm amidst the red-dirt landscape of the wild outback. Overlooking Crystal Brook Lake, the waterside retreat only has space for ten guests. It's also, again, only reachable by a 40-minute light craft flight from Cairns. You'll feel like you're getting exclusive private access to a spectacularly special part of the world. Spend your days hiking, kayaking or simply admiring the lakeside wildlife and your nights by the campfire (cocktail in hand, of course).
Silky Oaks Lodge | Daintree Rainforest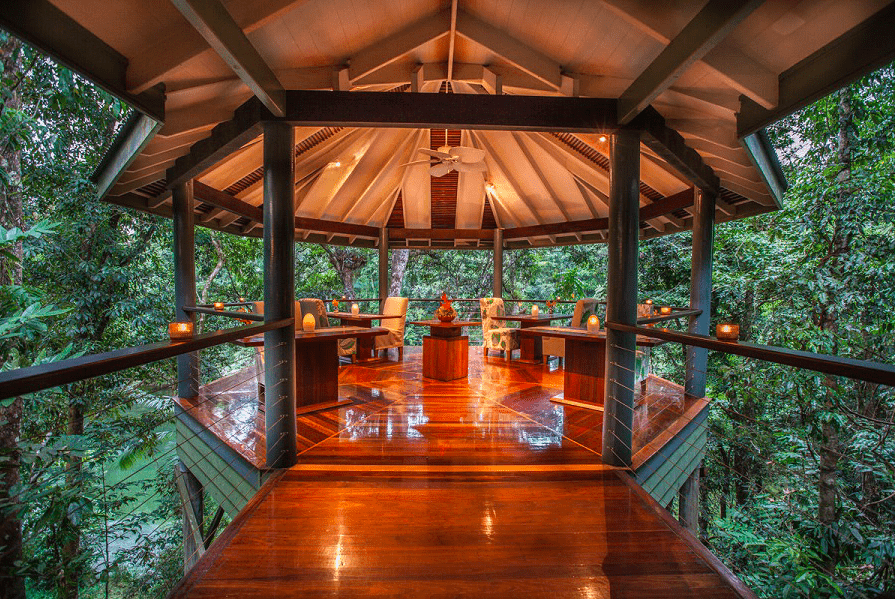 Image via Silky Oaks Lodge
You'll find this stylish eco lodge in far North Queensland, nestled in the midst of the tropical Daintree Rainforest. And we mean that… you'll find yourself literally lost in the rainforest if you choose Silky Oaks Lodge. Living out your childhood dreams, you'll stay in one of the lodge's modern, luxurious "treehouses", overlooking the riverfront or the sprawling acres of land adjoining the Daintree National Park. This is the world's oldest rainforest, but it's also the most accessible, and the retreat is just over an hour's drive from Cairns airport along a sealed, scenic coastal road. Stuff to do while you're here? The Daintree Rainforest has the largest range of animals and plants in the world, and you can also take a guided indigenous experience. The lodge offer plenty of ecologically and culturally sensitive activities. Make sure not to miss out on a quick treatment at the Healing Waters Spa and a bit to eat at the Treehouse Restaurant
Think Queensland could be a contender for your remember-forever South Pacific escape? Get in touch here to begin your journey.