Meet the mysterious top corner of Australia's Northern Territory. A seemingly endless expanse of gorges, canyons, woodlands, rivers and wetlands, this part of our country is wilderness in its purest form. It's a far cry from Australia's capital cities… so you'll be swapping the lights of Sydney's glittering skyline for rosy hued sunsets and deep, dark night skies. But you can rest assured that the Top End has an energy all of its own that is just as magnetic, in an entirely different way.
If it's an adventure away from the everyday that you're looking for, this should be top of your list. A chance to connect with hidden parts of an ancient community through Aboriginal art and culture, and an open zoo of wildlife for you to explore. Life moves at a more peaceful pace up at the Top End: your visit will instil a new mindset and a sense of self-sufficiency that you'll bring home with you. We've put together a short guide to the best experiences that the four regions of this naturally beautiful part of Australia have to offer.
Darwin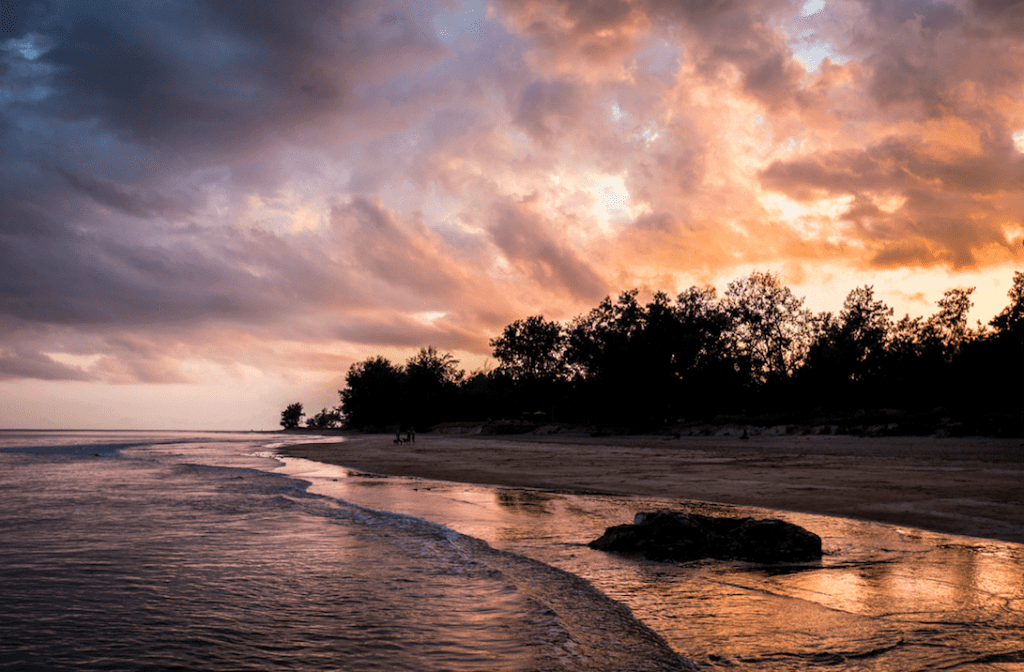 The Northern Territory's capital Darwin is a lively harbour city, seen very much as the gateway to the Top End's tropical wilderness. In fact, its harbour is even bigger than Sydney's and it's something of a cultural hub – its home to around sixty different nationalities. This is the notoriously welcoming intro to your Top End experience, and it's a location with a whole host of its own adventures to offer. Proximity to the harbour means the chance to immerse yourself in the diverse marine habitats local to Darwin. If you're looking for something a little exhilarating, you'll get up close and personal with some of the world's biggest saltwater crocodiles at Crocosauras Cove. Litchfield National Park is just an hour-and-a-half drive from Darwin, so you won't miss a visit while you're in this region.
Arnhem Land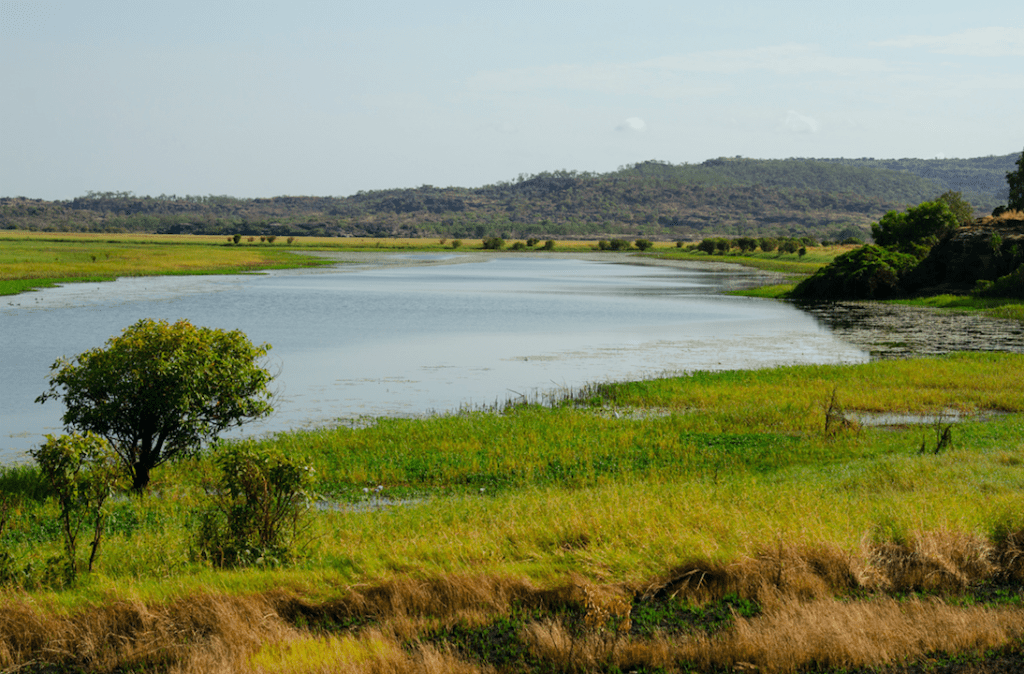 Arnhem Land is a 95, 000 square kilometre expanse of land, which is entirely aboriginal owned. There's a lot to explore: its rugged coastline extends all the way from Port Roper on the Gulf of Carpentania around the to the East Alligator River. It's wild, it's intensely spiritual: this part of the Top End is a rare treat, accessed only with a permit. Owners and guardians of Arnhem Land are the Yolngu people, who have occupied the region for over 60, 000 years, making this one of the world's oldest indigenous cultures. The sense of Yolngu community is incredibly strong and there are a handful of intimate tours led by the traditional owners to join if it's a truly authentic insight that you're looking for.
Alongside intimate views into ancient culture you can expect to leave with an insight into the intricate ecosystem of little known wildlife. You can expect an abundance of beautiful birdlife, salt water crocodiles and buffalos in a totally unspoilt setting, Plus, this is one of the best fishing destinations in the world. Try camping in Garig Gunak Barlu National Park on the secluded Cobourg Peninsula or stay in accommodation in Nhulunbuy on the Grove Peninsula. If you're travelling independently you'll need to apply to the Northern Land Council for your permit (this will be included if you're traveling with a group). Fly from Darwin or, during the Winter months, take a dusty four-wheel drive via dirt road to get here.
Kakadu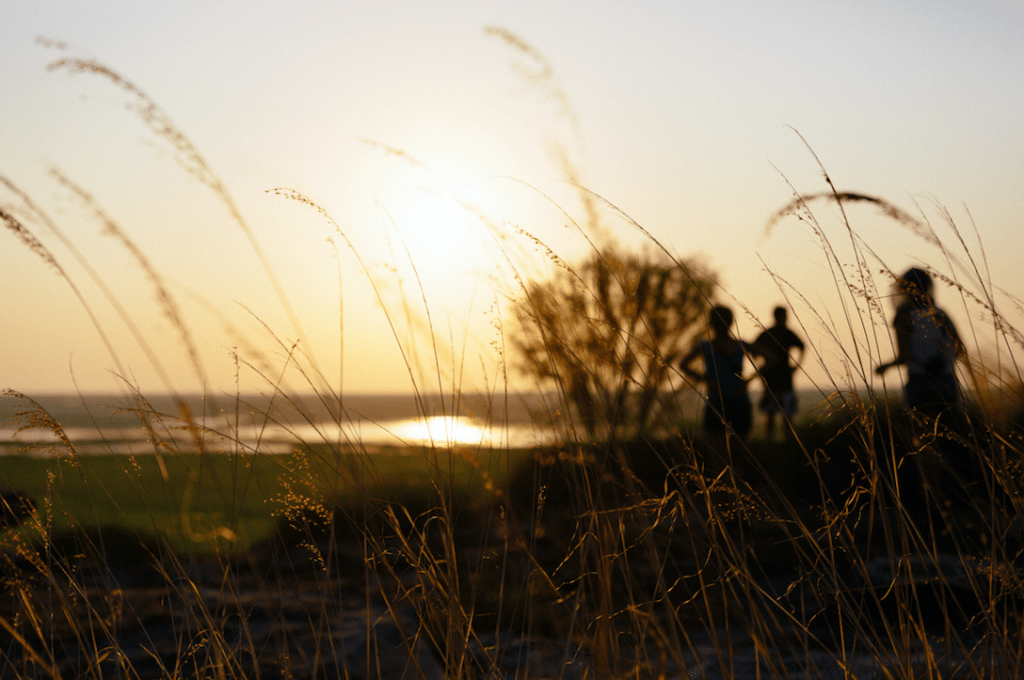 This region, of course, needs no introduction: the world heritage listed Kakadu National Park is Australia's largest national park. Despite its popularity with visitors to the Top End, Kakadu has managed to retain all of its natural charm and untouched beauty. The park is divided into seven zones (each with its own options for accommodation) and, for the most part, is made up of dramatic wetlands and lush rainforest. The local tribes recognise six different seasons, and you can expect a different experience of the setting depending on when you visit: from thunder and monsoons through to hot, dry weather conditions. For wildlife-watching in Kakadu, your best option is to take a Yellow Water cruise (try your hardest to secure a sunset or sunrise trip). You'll croc-spot as your canopied boat takes you through tranquil waters.
For access to the ancient aboriginal rock art gallery Ubirr, you'll take the easy to manage circular walking track. Modern art this is not, and most of the pieces you'll discover here date back around twenty thousand years and are perfectly preserved in this spectacular setting. For the kinds of views that'll take your breath away, take the moderately steep climb from Ubiir to Nadab Lookout for amazing views across the floodplains. Or otherwise, take a scenic flight over the gorges and cascading waterfalls – Jim Jim Falls and Twin Falls are amongst the most impressive.
Katherine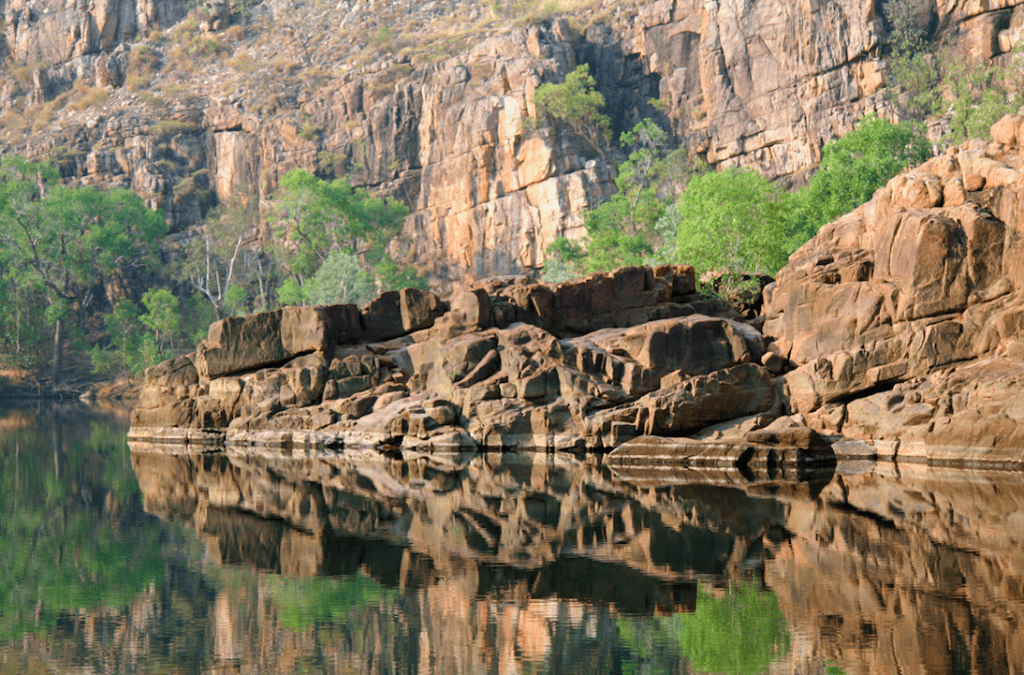 Around 300 kilometres from the Darwin, set on the banks of the Katherine River, this region stretches from the Gulf of Carpentaria to the border of Western Australia. The setting can't quite be done justice through description alone, but to make some kind of attempt: sandstone gorges, carved and curved into shape over millions of years, line the banks of the river. A quiet, haunting kind of beauty. The main focus of this region is Nitmiluk National Park, owned and managed by the Jawoyn Aboriginal people, with its backdrop as Katherine Gorge. The river flows through thirteen separate gorges all the way up through the Arnhem Land plateau, and the best "insider access" vantage point on the surrounding gorges will come in the form of a canoe ride or cruise through the sheer cliffs and freshwater beaches. Other essentials while you're in the area include the Cutta Cutta Caves Nature Park, the Katherine Hot Springs.
Looking to explore the Top End and ready to start your journey? We can help. Get in touch here to talk to us about how we can make your trip life changing.