We've always felt that one of the most inspiring ways to truly discover a new city is through its artistic and creative offering. After all, you wouldn't visit Paris without going to The Louvre, or Barcelona without seeing some of Gaudi's work. Creative production, in whatever form it takes, is a window into the soul of a city.
For these historic European cities, art acts in some way as an archive, commemorating cultural heritage. For Australia's most vibrant city, Sydney, art has always had a slightly contemporary edge. There's something inherently fluid and "of the moment" about Sydney's identity, and expressing that energy is something a little more complex.
The Vivid Sydney Arts Festival hits the nail on the head when it comes to celebrating the true character of the city. Making itself seen and heard in locations all over Sydney from May 26 to June 17, it's a unique annual event of light, music and ideas: a series of installations, exhibitions, tours, events and talks. The festival is a celebration of art, but these are not "art pieces" in the traditional sense. Light and sound flow and stretch, and exhibitions merge into the space of the city.
The whole event is a dream-like whirlwind of colour, sound and movement. We've compiled an at-a-glance guide to the festival to help you navigate your way around. Stuff to see, stuff to do, plus the little Sydney-based boutique spots that you might like to stay while you're in the area.
Things to See

Immerse yourself in installations and experiences from Vivid Sydney's "Light" program. Take a trip to Darling Harbour for the Fred Hollows Foundation's The Gift of Sight – a passionate collaboration that blurs the lines between art and digital technology. Here, you'll find yourself invited (armed only with a UV light) to discover artworks created with invisible ink.
The Royal Botanic Garden plays host to Electric Forest, a series of light installations which transform the surrounding trees and plant life into canvases. And of course, no trip to the city would be completed without a visit to the Sydney Opera House. Join them for the Lighting of the Sails: Acoustic Creatures, a visionary work from Art Director Ash Boland which sees kaleidoscopic, nature-inspired tableaux projected onto the iconic sails.
Things to Hear
The festival's offering when it comes to musical treats is eclectic, to say the very least. For progressive sounds in an old-timey, intimate setting underneath the streets of Sydney, you'll head to one of the live music events Golden Age Cinema & Bar. For more nostalgia (this time a little more lively), you'll make your way to The World Bar, Kings Cross for Hidden Sydney: The Glittering Mile – an immersive cabaret celebration KX in the 50s, 60s and 70s. Or, if it's the setting that makes an experience for you, find Sydney's iconic music castle for a program spanning classical, electronic, popular and jazz music from Vivid New Music @ The Con.
Things to Think About
If you're a fan of performance art, you'll find yourself drawn to the Seymour Centre's showcase of 2017: Performance for Social Change. The theatrical production (featuring a cast of performers from the Australian Theatre for Young People) frames issues surrounding climate change, And, if social change and development is your kind of thing, you'll find food for thought at the Creativity in Education discussion, taking place at the Museum of Contemporary Art as part of the Vivid Ideas Exchange.
Again, The World Bar Kings Cross has got you covered on an avant-guard style of nostalgia with Kings Bloody Cross – Tales of the Criminale and Gliterrati. A series of raw "in conversation" events with artists and idealists remembering bohemian Sydney during the days of rock n roll and free love.
Where to Stay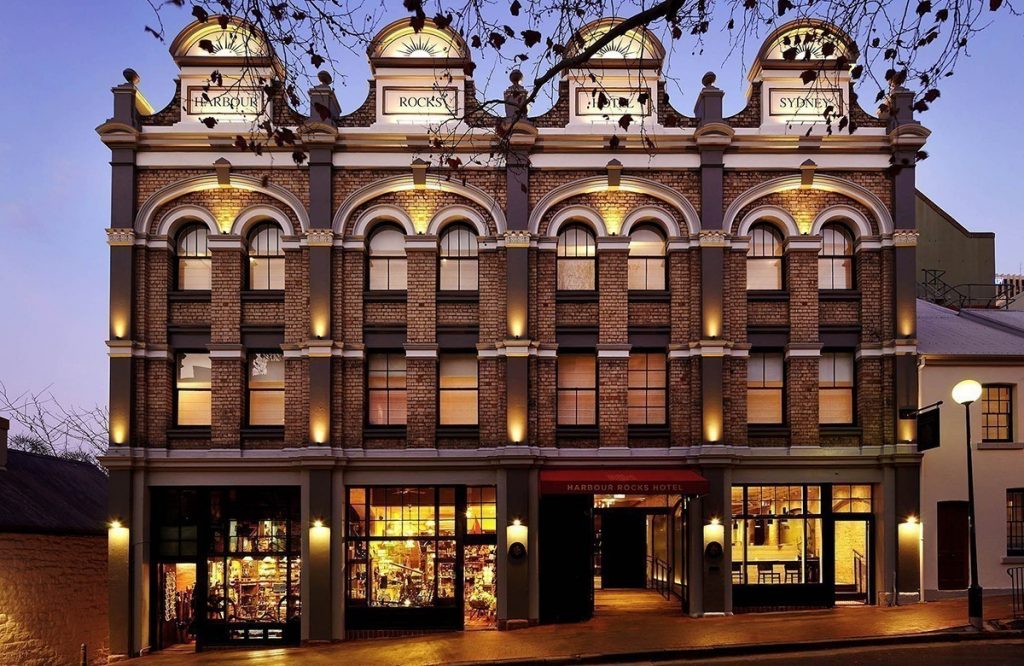 Of course, you wouldn't miss the chance to explore Sydney's boutique hotel offering while you're visiting now would you? Stay at Harbour Rocks, perfectly positioned just a short stroll from the Sydney Harbour Bridge & Opera House. Or check out the fashionable Establishment Hotel – a former warehouse with sleek and contemporary rooms, nestled in a small Sydney entertainment complex.
Looking to make a culture-packed city-break to Sydney part of your South Pacific adventure? We can make it happen. Get in touch here for help creating your tailor-made trip of a lifetime.