Image from Treetops Lodge & Estate
There's something about the way that a child's memory works that we lose as we get a little older. Ask the parents what their favourite part of a vacation was and their answer might be "the amazing coastal view at the top of the cliff side". Ask the same of the kids? You're more likely to get "the baby crab that I saw crawl underneath a rock when we watched the ocean from the side of the big cliff".  Special moments stick with all of us, but it's the tiny little details that they hone in on. And spend the next few months (at least…) talking about.
Little heads with big imaginations need travel experiences to ignite their sense of curiosity. And luxury South Pacific family escapes are something we're asked about a lot. At the top of our list of recommendations is always New Zealand. Sprawling wilderness and raw coastlines make this a setting ripe for exploring. It's also home to some of the best luxury lodges in the Southern hemisphere. Perfect for the pint-sized, discerning traveller.
Let's face it, with school vacation, it can sometimes feel like a long summer. So why not take the chance to fuel their young minds with new experiences in a new part of the world? We've put together a guide to just a few of our favourite family-friendly retreats in New Zealand. With any of them as the base for your getaway, you can expect a genuinely positive, friendly and flexible attitude towards children. Think adventures to excite, inspire and exhilarate across generations.
The Farm at Cape Kidnappers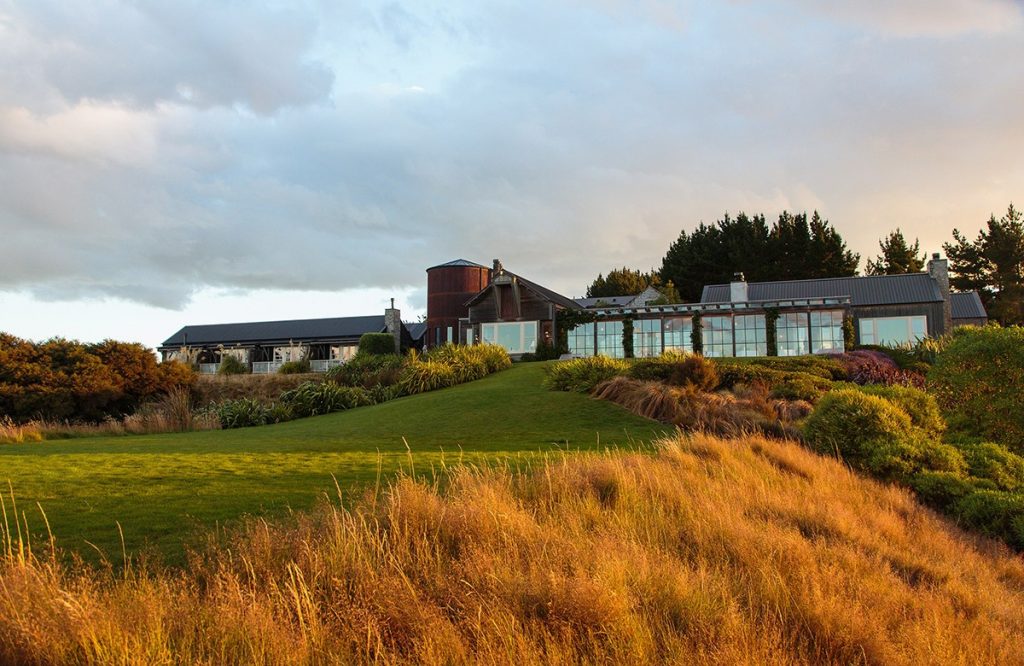 Image from The Farm at Cape Kidnappers
This award-winning cliffside retreat sits high at the top of 6000 acres of land, overlooking the surrounding wilderness, with spectacular views of the Pacific Ocean and out towards Hawke's Bay. It's a little cluster of luxury lodge buildings – set alongside a working sheep farm and cattle station – all with a rustic, character-filled charm. You'll come across interior props like old tractor seats, wooden grain boxes – unique touches to spark excitement and enthusiasm. Cape Kidnappers has a huge selection of destination-inspired activities, and the focus is on experiences that kids can learn from. This summer's program included a live sheep farming show, a star gazing session and a trip to the Aviary at Cape Sanctuary (home to protected native birds like the Kaka and Kakariki parrots). Another simple, but fun highlight is a tour around the farm's vegetable gardens. They'll run off some excess energy and you'll introduce them to the fresh seasonal produce that Hawke's Bay is known for.
If you've had the chance to read up on Hawke's Bay, you'll know that the region produces some pretty spectacular wines. And you're in luck – Cape Kidnappers offers a babysitting service. You'll spend your evening sitting back and relaxing with a glass of red by an open fire, while the kids sleep soundly in their bedrooms.
The Lodge at Kauri Cliffs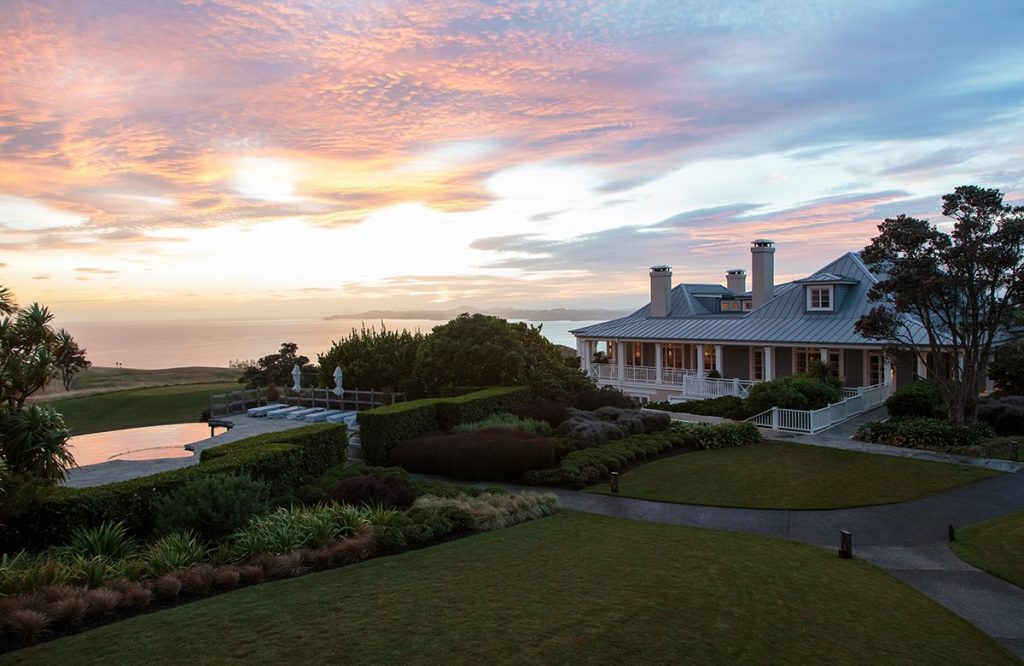 Image from The Lodge at Kauri Cliffs
Near the North Island's Matauri Bay, this is another of Julian Robertson's stylish premier New Zealand lodges. Cottages nestled amongst a forest overlooking the renowned golf course and the Cavalli Islands, it's a setting that'll impress the whole family. For a really memorable stay at the retreat, you'll opt for the Owners Cottage– a two suite home with an infinity pool, an outdoor barbeque for independent dining and ample bedroom space for everyone.
Stuff to do while you're here? Well, where should we start. Wannabe intrepid explorers will choose a sailing or fishing expedition around The Bay of Islands. It's a day-long adventure, and you'll be accompanied by a professional skipper and crew. Other exciting parts of the area surrounding Kauri Cliffs include its rich native heritage and history. Your chance to give your kids a glimpse into another culture comes in the form of a guided tour around the Waitangi Treaty Grounds, where you'll be entertained by traditional Maori performance. And, of course, one just for the parents: a round of golf or two at Kauri Cliffs golf course, naturally.
Matakauri Lodge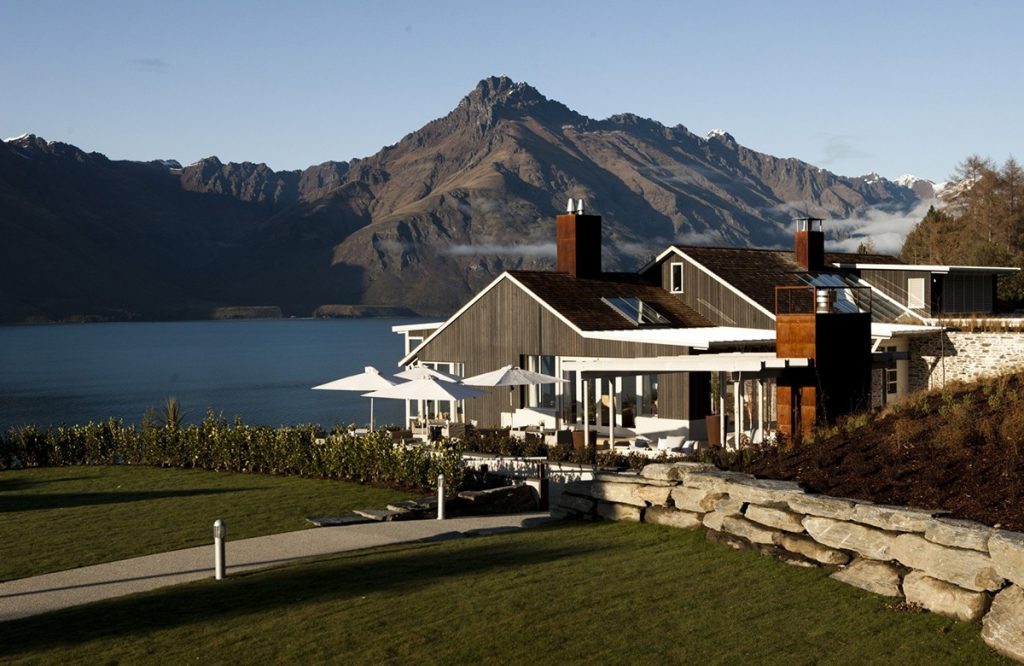 Imae from Matakauri Lodge
Yet another part of the Cape Kidnappers family, you'll find Matakauri Lodge on New Zealand's South Island. It's just a seven-minute drive from Queensland but, with the breathtaking views out onto Lake Wakatipu, you might as well be in the middle of nowhere. This one isn't short on high-profile endorsements either: the lodge's Owner's Cottage was home to the British royal family's William and Kate during their 2014 stay in New Zealand. Sure, this lodge is elegant and refined…but there's also a lot of fun to be had here.
The lakeside setting is an unmissable opportunity to show your kids the kind of spectacular views that they won't come across anywhere else. The best way to give them the full 360 experience? Views from both above and below. The full-day Funyak Safari adventure begins with a jet boat ride around Mount Aspiring National Park, taking you up the channels of the glacier-fed Dart River's braided river system. You'll then work together to paddle and drift the inflatable Funyak downstream. For an awe-inspiring panoramic view from above, travel by gondola up to the Skyline complex. When you arrive back at your suite, you'll be met with freshly-baked brownies to restore your energy. And if you need a little downtime while the kids are having fun, that's not a problem. The lodge offers a babysitting service and the babysitter can go with your kids on this activity.
Treetops Lodge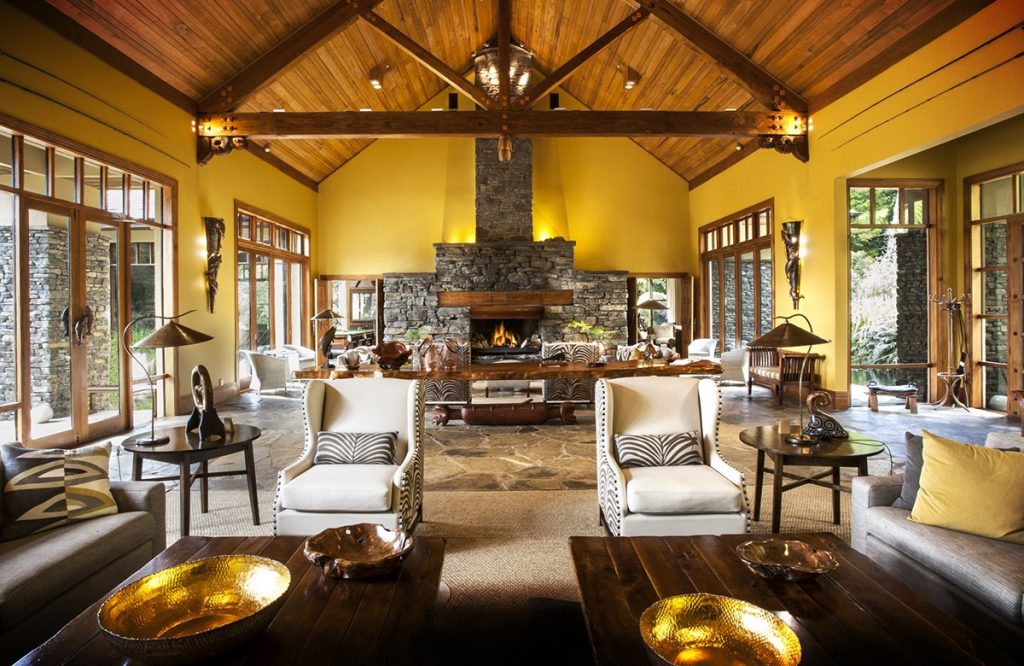 Image from Treetops Lodge
A luxury haven within New Zealand's Rotorua, the Treetops Lodge welcomes families of all sizes with open arms. You'll discover this unique part of the world through the eyes of your children, sharing in their wonderment at the natural thermal paradise. And this retreat is not messing around when it comes to 5-star experiences for adventure-loving kids. They offer a full two-day itinerary of activities covering everything from horse trekking to mountain biking. A favourite for the budding culinary masters looking to hone their skills is the Junior Master Chef competition, where they'll work on new recipe's alongside the Executive Chef. And for the slightly littler fun-lover? The chance to gather, dig, plant and try some tasty treats in the vegetable garden and orchard.
What would your kids add to the list? A vacation for the whole family calls for meticulous planning… and that's where we come in. Take the stress out of your journey, and let us design your escape from the everyday. Get in touch here.