Image Peter Eve, via Bamurru Plains
Welcome to Australia's Northern Territory, in all of its glorious contrasts and complexities. Where lush wetlands, waterfalls and wildlife turn into open canyons and sprawling gorges. Headline acts up at the tropical Top End include unmissable sunsets and stargazing opportunities. Plus, flora and fauna in the world-heritage listed Kakadu National Park. Climates become dryer and the ground turns rust-coloured as you reach the Antipodean outback. We call this the heart of Australia, and perhaps not just because of its central positioning. There's something very raw but really beautiful about it. Intriguing and terrifying in equal measures, this part of Australia feels like a true glimpse into "otherness".
What else is so astounding is its ancient heritage. Aboriginal art and culture is something that has remained very present throughout Australia. Visiting the Northern Territory is probably the most immediate connection that you'll get to feel to the complex Aboriginal experience. Galleries and rock-art sites are your insights into indigenous traditions.
Lost in this rugged setting, you might imagine that you'd be short of places where you can be pampered. But in fact, Australia's Northern Territory has an inspiring hotel offering, with a couple of retreats really raising the stakes when it comes to bush luxury. Here are our favourite picks.
Bamurra Plains | Mary River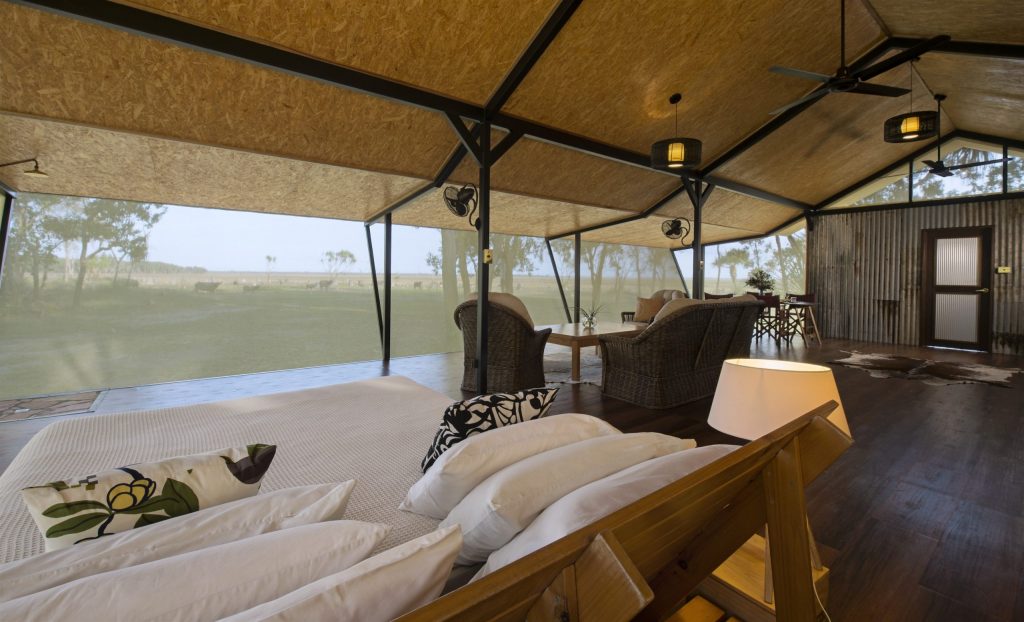 Image via Bamurru Plains
Kakadu National Park is something of an Australian icon. On the Mary River floodplains of the Darwin, just at the park's edge, you'll find Bamurru Plains. A set of stylish safari lodges, overlooking the wetlands. Arriving here is a little bit of an adventure, inevitably including a somewhat bumpy ride via land cruiser, but once you reach the small wilderness retreat you'll be endlessly glad you came.
The 300 square kilometres of surrounding farmland, Swim Creek Station, is reserved exclusively for guests of Bamurru Plains. This is a quiet, intimate outback experience with luxurious little touches, and a place to really switch off. In fact, silence is disturbed only by the calls of Magpie geese, egrets, herons and kookaburras. We'd call this experience "back to nature", but that probably wouldn't quite do it justice: the eco-friendly cabins are open sided, so you'll find yourself watching the parade of wildlife from the comfort of your bed. The retreat is made up of a main lodge and nine stilted bungalows, made from timber and bamboo and all with their own decks. End your evening sipping a smooth glass of Australian wine, looking out over the plains.
Your stay at the resort is inclusive of all tours, and your passionate field guides make sure that your wildlife and cultural tours are truly all-encompassing. Safari by open top 4WD or take a scenic flight up to the stone country to explore Aboriginal rock art. Enjoy a bush picnic lunch and then you're your Aboriginal guide for the Gulumyambi cultural cruise on the East Aligator River. Mary River floodplains are said to be home to the most saltwater crocodiles in the world and you'll find that the crocs can be secretive… don't be surprised if it takes you a while to notice them lurking somewhere just beneath the surface. Likely to be a little less shady are the wallabies, water buffalo and wild boars. An Australian-style safari escape, designed to connect you with the landscape, the wildlife and the aboriginal culture.
Longitude 131°| Uluru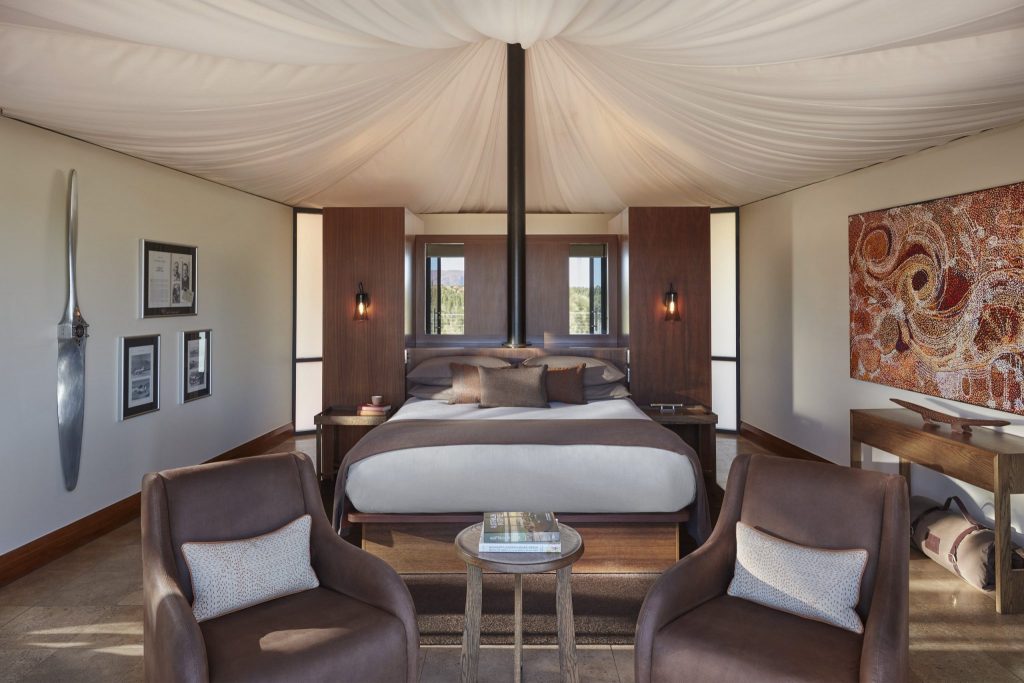 Image via Longitude 131°
Uluru, or Ayers Rock, is a landmark unlike anything you've come across. Towering 348 metres high, it's a symbol of Australia's skyline. A horizon-dominating site of sacred significance found in the heartland. Set in the outback sand dunes, just 10km from Uluru in the remote Uluru-Kata Tjuta National Park, is the luxurious desert camp Longitude 131°.
The retreat is owned by the prestigious Baillie Lodge group, who stepped in back in 2013 for a revamp and has received its fair share of press. And although the resort is by no means short of high-end special touches, they haven't over done it. The 16 glass-fronted, canopy-roofed designer tents are understated and civilised with simple white linens, and timbers, featuring fireplaces and daybeds. Plus, with self-raising blinds, you can wake up to watch the sunrise over ancient Uluru. Insider's tip: try the two-bedroom Dune Pavillion suite, with deck and a heated private plunge pool. Book an alfresco dinner at Table 131° in the central Dune House for an evening of cocktails, stargazing and contemporary Australian cuisine with indigenous influences.
Of course, you came to the heart of the Antipodean outback to explore and there are plenty of experiences to suit every individual taste. Try guided hikes (or meanders, if you prefer something a little more relaxed) around the Uluru base and the Valley of the Winds circuit at Kata Tjuta. Take a day trip via helicopter to Kings Canyon or the remote art community at Ernabella. If it's the right vantage point over soul stirring views that you're looking for, you'll join your guide to Walpa Gorge to learn about the natural history. A true union of landscape and luxury.
Looking to make an adventure for yourself in Australia's Northern Territory? Get in touch here to find out how we can help you to make it life changing.